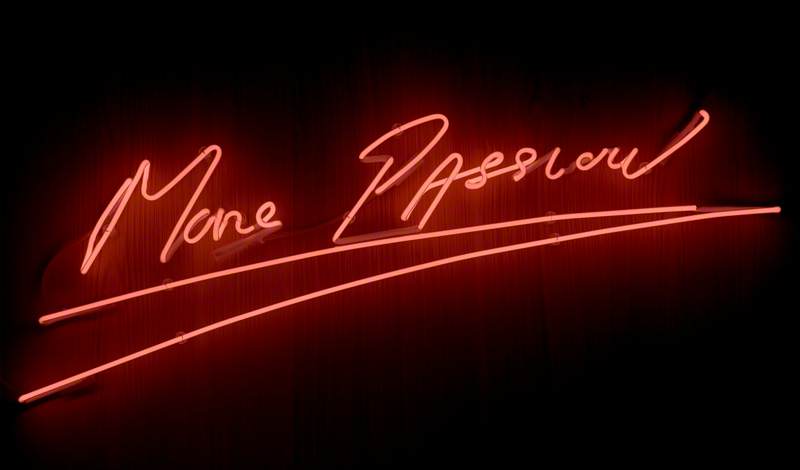 © Tracey Emin. All rights reserved, DACS 2021. Photo credit: Government Art Collection
Tracey Emin, CBE, RA is an English artist who uses a variety of materials. Emin gained a bachelor's degree in Fine Art from Maidstone College of Art in 1986, then attended the Royal College of Art, graduating in 1989. Mixed shows included Hotel Carlton Palace Chambre 763, at Hotel Carlton Palace in Paris, 1993; Karaoke & Football, Portikus, Frankfurt, 1994; Brilliant! New Art from London, Walker Art Center Minneapolis, 1995 (in which Emin exhibited a tent inside which she had sewn the names of everyone she had slept with including the artist Billy Childish. Her work was sometimes similar to his in its confessional subject matter, language and ideas; her photograph I've Got It All, showing her with coins and banknotes, reminiscent of his much earlier photo I've Got Everything Indeed, depicting Childish with coins and banknotes); and A Grapefruit in a World of Park, Transmission Gallery, Glasgow, and Sad, at Gasworks, both 1996.
Read more
In 1993 Emin with the artist Sarah Lucas for several months ran The Shop, at 103 Bethnal Green Road. In 1995 the artist set up the Tracey Emin Museum at 221 Waterloo Road. In 1994 Emin conducted Exploration of the Soul – Journey Across America, in which readings were staged at venues including the Museum of Contemporary Art in San Diego, and My Major Retrospective was held by Jay Jopling at White Cube. Other solo shows included Exorcism of the Last Painting I Ever Made, Galleri Andreas Brandstrom, Stockholm, 1995, in 1996 Full House at Wolfsburg Museum, Wolfsburg, Germany, in 2001 You Forgt to Kiss My Soul at White Cube2, and Tracey Emin, Counter Gallery, 2003–4, sculptures made from the artist's memorabilia.

British Museum and South London Gallery, where in 1997 Emin appeared in I Need Art Like I Need God, hold the artist's works, as do several American collections. Charles Saatchi bought Emin's creased and stained My Bed, which was exhibited at the Tate Gallery when she was shortlisted for the 1999 Turner Prize. This Is Another Place, in 2002 at the Museum of Modern Art in Oxford, Emin's first solo exhibition in a public gallery for five years, contained her rickety reconstruction of a Margate pier. In that year the BBC commissioned a £500,000 autobiographical film from the artist. Her film Top Spot was release in 2004, the year that Tate Britain dedicated a whole room to her works and bought nine of them. Emin represented Britain at the 2007 Venice Biennale. In December 2011, she was appointed Professor of Drawing at the Royal Academy.
Text source: 'Artists in Britain Since 1945' by David Buckman (Art Dictionaries Ltd, part of Sansom & Company)