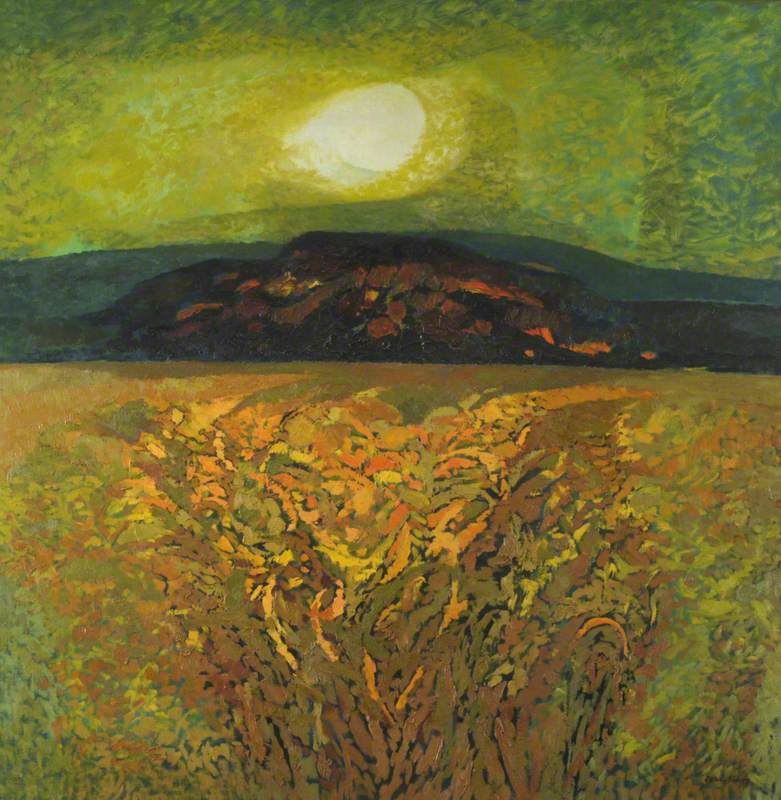 © the artist's estate. Photo credit: University of Southampton
Painter, printmaker, book illustrator and teacher, born in Newcastle Emlyn, South Cardiganshire, his real name being William John Elwyn Davies (early work could be signed Elwyn Davies or J E D). He studied at Carmarthen Art School, 1933–7, Bristol College of Art, 1937–8, Royal College of Art, 1938–9 and 1946–7. Elwyn taught at Portsmouth College of Art, 1948–53, then for many years at Winchester College of Art. Elwyn was closely identified with the landscape of Cardiganshire and its people, notably groups emerging from chapel on a Sunday morning in Sunday-best and dark suits and bowler hats. He wrote that he "continued using figures until about 1962, then for about 10 years worked in a semi-abstract manner with subjects taken from my garden.
Read more
Eventually I returned to the landscapes of West Wales, without figures." Elwyn took part in numerous mixed shows in Britain and abroad from 1942. One-man exhibitions included Leicester Galleries, Howard Roberts Gallery in Cardiff, National Library of Wales, Tegfryn Gallery in Anglesey and in 1988 he shared a show with Thomas Rathmell at Ceri Richards Gallery, Swansea. National Library of Wales, Aberystwyth, put on an eightieth birthday retrospective in 1996, touring a memorial show from 1999. Commissioned work was done for Barclays Bank, Shell, Radio Times, Harlech Television and the General Post Office. Originally a Welsh speaker, Elwyn was made an honorary member of the Gorsedd of Bards and of RCamA. In 1956 he won the Royal National Eisteddfod gold medal. Elwyn's work is held by many public collections, including National Library of Wales, Aberystwyth; National Museum of Wales, Cardiff; Welsh Arts Council; and Leeds University. Lived in Winchester, Hampshire.
Text source: 'Artists in Britain Since 1945' by David Buckman (Art Dictionaries Ltd, part of Sansom & Company)