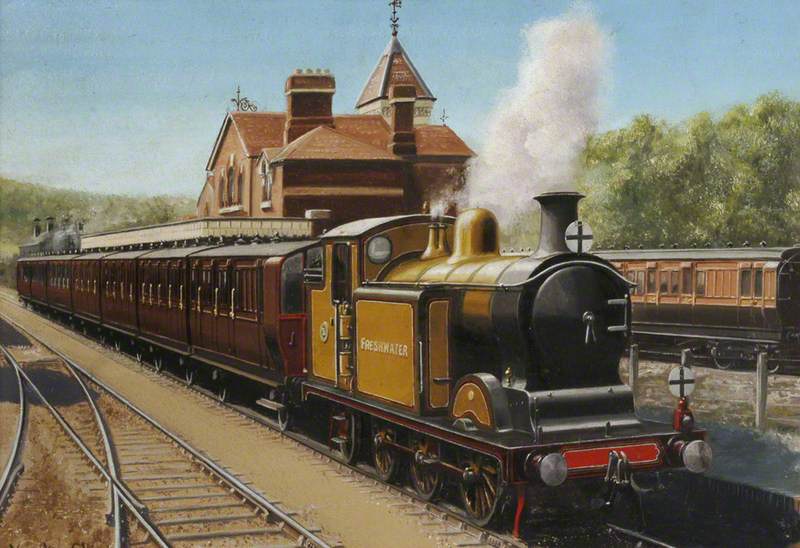 © the copyright holder. Photo credit: Museum of Island Railway History
Historian and self-taught artist of railways, born in Petersfield, Hampshire, whose memories of steam pre-dated World War I. Ellis was educated at Westminster School, in Munich and at Exeter College, Oxford. He began his writing career in 1922 on the staff of Country Life, also working for Modern Transport and Railway Magazine. Ellis wrote over 40 books and was notable for his histories of several major British lines, such as the London and South Western and the North British Railway, was a pioneer student of carriages and charted the early history of model railways. The Trains We Loved, 1947, was typical of his slightly patrician, aesthetic approach, Rapidly Round the Bend, 1959, employing a dry sense of humour. Ellis was a prolific painter and illustrator.
Read more
His pictures often show railways bathed in a warm Edwardian sunshine. The Splendour of Steam, 1965, is illustrated with his own sketches. The Sunday Times issued a set of reproductions of his works which was popular, as were paintings commissioned to decorate British Rail carriage compartments, the originals being held by the National Railway Museum, York. Ellis's other books included Modern Railways, 1962, The Pictorial Encyclopedia of Railways, 1968, and The Love of the Train, 1971.
Text source: 'Artists in Britain Since 1945' by David Buckman (Art Dictionaries Ltd, part of Sansom & Company)