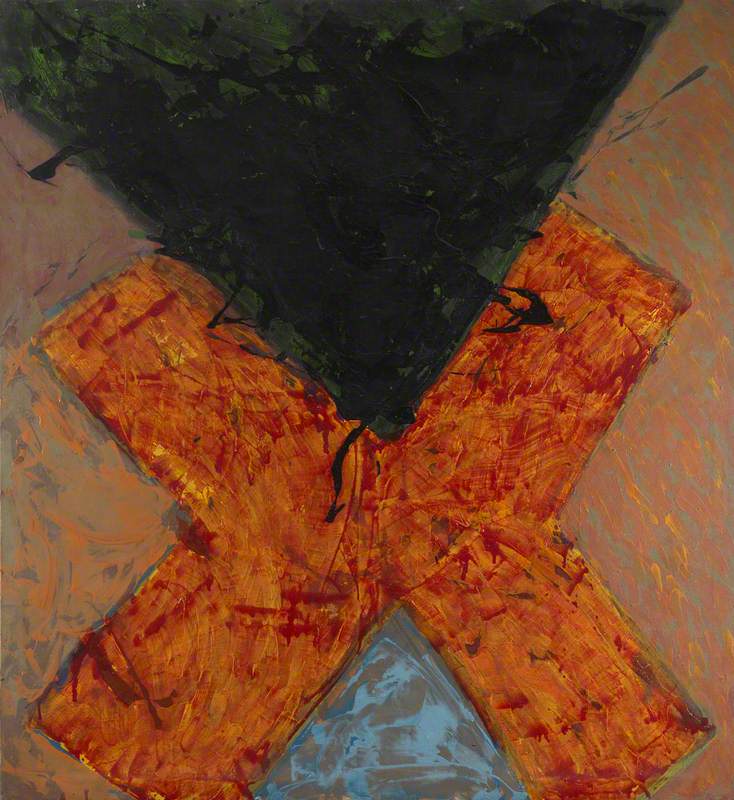 © John Edwards. All rights reserved, DACS 2022. Photo credit: British Council Collection
Painter and teacher, born in London, where he continued to live. Edwards studied at Hornsey College of Art, 1953–60, with a spell in Royal Air Force, 1956–8. In the early 1960s Edwards taught at Brighton College of Art and Leeds University Institute. After a British Council Scholarship took him to Belgium in 1963–4, Edwards embarked on a busy teaching career which included periods at Chelsea and Brighton and St Martin's School of Art, where he was senior lecturer in painting. In the mid-1970s he taught at a number of American colleges and universities and was artist-in-residence at Syracuse University, New York. Edwards took part in many group exhibitions and from 1967 had extensive solo shows at Rowan Gallery. In 1979 a Newcastle upon Tyne Polytechnic Art Gallery show toured England.
Read more
Edwards' abstract pictures had many influences over the years, including Rothko, Noland, David Smith and Anthony Caro. The surfaces could be highly charged and sometimes he used basic configurations in series, such as X's, T's, crosses and arcs. Arts Council holds his work.
Text source: 'Artists in Britain Since 1945' by David Buckman (Art Dictionaries Ltd, part of Sansom & Company)