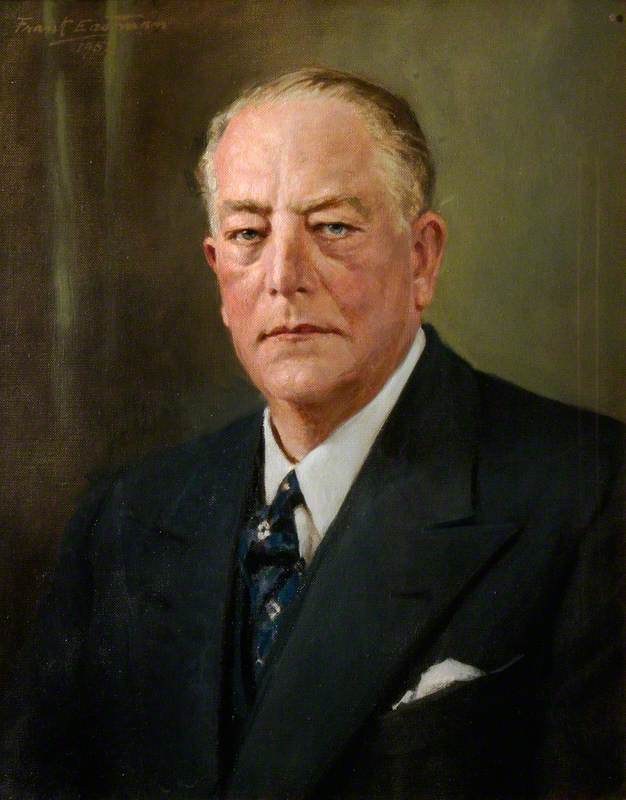 © the copyright holder. Photo credit: The Museum of Army Flying
Frank Eastman, portrait and landscape painter, was born on 27th April 1878, at Anerley, Surrey, the third son of Hugh Thomas Eastman (1843–1914), an architect and land surveyor, and his wife Agnes (née Goodes, 1845–1899). Eastman's artistic training was at the Royal Academy Schools, which he entered on 24th January 1899, graduating in January 1904. In July 1900 he won a two-year British Institution scholarship valued at £50 per annum and in 1901 a two-year Landseer Scholarship in painting from the RA. At the 1901 census he was living with his parents, at 148 Croydon Road, Penge, though they later moved to Sydenham.
Read more
On 2nd September 1905, aged 27 and described as 'Artist', Eastman married at All Saints, Battersea Park, to (Edith) Maud Mair, then also 27 and herself an artist, apparently usually called Maud. She was a student contemporary at the RA Schools and subsequently known as a miniature painter. Eastman's address was then given as Tedworth Studio, Smith Terrace, Chelsea.

The couple's first child, Agnes Mary Eastman, later also an artist, was born in London in 1906. The 1911 census shows the family living at 14 Edith Villas, West Kensington, with both Frank and Maud described as artists and painters. In 1917 they also had a son, Peter Daniel Mair Eastman, who later rose to the rank of Lieutenant-Colonel in the army. In July 1918, Eastman himself signed up in the 94th and ended up in the 29th Battalion of the City of London Regiment. Given the date, it is unlikely he saw much First World War service.

In about 1935 the Eastmans moved to a large house overlooking the Thames at Putney, which his later letterhead prefixed as 'Thames Studio'. The 1939 Register lists him there as 'Artist, Portrait Painter' and ARP Camouflage Officer, in which his work was to disguise power plants, factories and other installations between the Humber and the Thames against air attack. Eastman exhibited at the Royal Academy in 25 of the 45 years between 1902 and 1947, showing one or two portraits, or other subjects each time. He and his wife also exhibited many works commercially at Walker's Gallery, Bond Street. In November 1959 Eastman was also one of the artists represented in an exhibition of 'Portraits of Leading Industrialists' at the Hans Gallery in Duke Street, London, also generating commissions from notable people of the time. Up to 1940 Eastman also showed occasional work elsewhere: in London, this included examples at the Royal British Artists and the Bruton and Grosvenor Galleries, with others at the Walker Gallery, Liverpool and in Manchester.

Although he occasionally did other subjects, Eastman was mainly a portraitist, a number being of family connection, and his obituary ('The Borough News', October 1964) states that he painted about 3,000, mentioning several of the car-maker William Morris, 1st Viscount Nuffield. Of the works listed as in British public collections by Art UK, most are either male 'boardroom' images of business figures or civic dignitaries and military officers. Most are probably also the results of his commercial Walker or Hans Galleries commissions. 'A Little Sleep', of about 1906 and showing Pre-Raphaelite influence, is probably a double portrait of his wife and baby daughter. Eastman was also a good figure draughtsman and did portrait studies in dry media on paper.

Eastman's wife died in December 1950 but he was survived by his son and daughter when he followed, aged 86 and after a long illness, at St John's Hospital, Battersea, on 12th October 1964.
Text source: Art Detective discussion 'Who is this member of the Robinson family?'