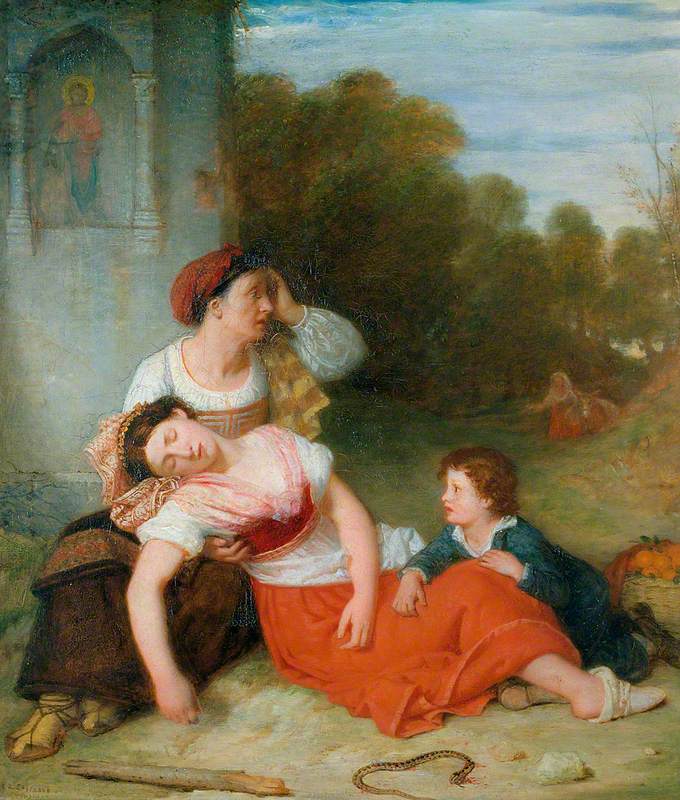 Photo credit: Victoria and Albert Museum, London
(b Plymouth, 17 Nov. 1793; d Pisa, 24 Dec. 1865). English painter, art historian, and administrator. He studied under Haydon and achieved early fame with his Napoleon on Board the Bellerophon (1815, Nat. Maritime Mus., London), made from sketches when he witnessed Napoleon on board ship (in Eastlake's native Plymouth) en route to exile in St Helena. Using the proceeds from the sale of this work he lived in Rome 1816–30, painting picturesque scenes of the Roman Campagna, often peopled by banditti, that became very popular in Britain. After his return to England, however, he turned increasingly to administration and achieved a remarkable record as a public servant. Most notably he was president of the Royal Academy from 1850 and director of the National Gallery from 1855, continuing in both posts until his death.
Read more
He had an enormous impact at the gallery, bringing strong management to an institution that had been drifting into chaos, and making numerous major purchases, especially of early Italian paintings: 'No Englishman of his time knew more about art…Setting a brilliant example of intellectual strength and honourable service, he made the National Gallery great' (Oxford DNB). Among his writings are Materials for a History of Oil Painting (1847), a pioneering work, and a translation of Goethe's Theory of Colours (1840). His wife, Elizabeth, née Rigby (1809–93), was a figure in her own right in the literary–artistic world of the day. She wrote several books on art and also translated Gustav Waagen's Treasures of Art in Great Britain (1854). Eastlake's nephew, Charles Locke Eastlake (1836–1906), was keeper of the National Gallery, 1878–98, and published several works on art and decoration, the best known of which was Hints on Household Taste (1868), in which he advocated quality of materials and workmanship. It was highly influential in England and even more so in America, although so-called 'Eastlake furniture' often has little to do with his ideas.
Text source: The Oxford Dictionary of Art and Artists (Oxford University Press)