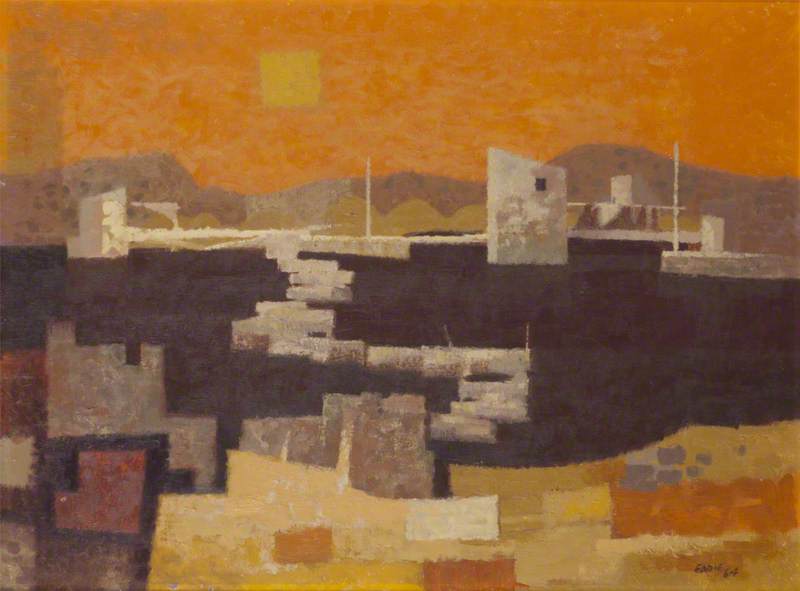 © the artist's estate. Photo credit: University of St Andrews
Painter, muralist and teacher, born and died in Dundee, who showed an early talent for drawing, leaving Harris Academy as Dux Medallist in Art. From 1931 studied under J Milne Purvis at Dundee College of Art, gaining his diploma after three years, then a postgraduate year. He won the first travelling scholarship awarded by the College, which enabled him to study under Ferdinand Sabatté in Paris at the École des Beaux-Arts and to travel in Italy, a tour cut short by the death of his father. Aged 22, Eadie had shown at the RSA, to which he was soon to add RP and RWS. Eadie was commissioned to paint murals for the 1938 British Empire Exhibition in Glasgow. In 1939 he studied for four months at Westminster School of Art under Mark Gertler, then began teaching at Dundee College of Art until World War II interrupted.
Read more
Joined the Gordon Highlanders and, taking a commission, served with the 51st Highland Division widely abroad as divisional war artist, his work eventually being taken by the Imperial War Museum and public galleries in Aberdeen, Dundee and Glasgow. There was an exhibition of the war pictures at the Scottish Gallery, with tour, in 1944. Demobilised in 1946 Eadie soon returned to Dundee College of Art to teach, part-time until the end of his life as he wished to freelance. This involved periodic economic hardship, disappointments and bouts of hard work. He had solo exhibitions at Panmure Art Salon, Dundee, 1947, and Blyth Hall, Newport, 1953. Eadie's heavy workload as a mural painter from the 1950s eroded time for easel painting. There were many commissions for ships, others including Shoppers, for the Overgate Shopping Centre, Dundee, and one for the Aviemore Holiday Centre. Travels on the continent saw him latterly returning to easel painting, but heavy smoking and a dependence on alcohol undermined Eadie's health and cut short his working life. Dundee College of Art awards an Ian Eadie Prize.
Text source: 'Artists in Britain Since 1945' by David Buckman (Art Dictionaries Ltd, part of Sansom & Company)