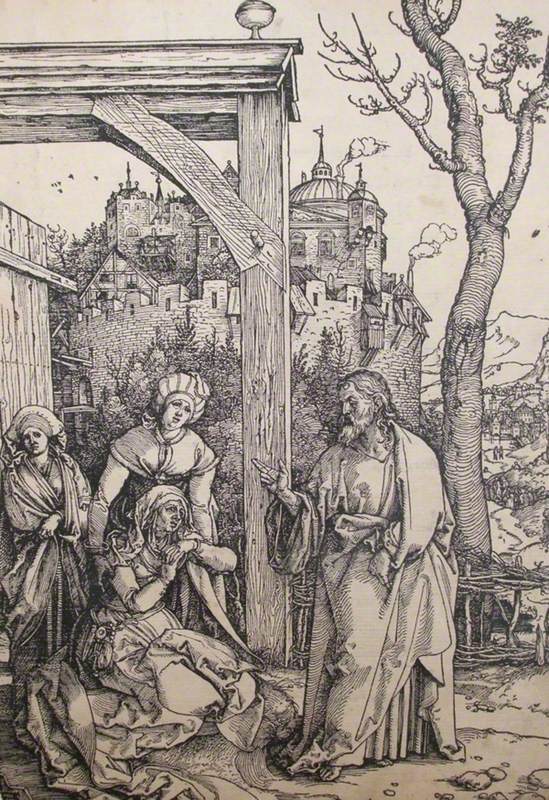 Photo credit: Ben Uri Collection
(b Nuremberg, 21 May 1471; d Nuremberg, 6 Apr. 1528). German printmaker, painter, draughtsman, and writer, the greatest figure of Renaissance art in northern Europe. He was the son of a goldsmith, Albrecht Dürer the Elder, who trained him in his profession. Both his grandfathers had also been goldsmiths, but from an early age Dürer had intellectual ambitions that reached far beyond the confines of the medieval craftsman's workshop. His godfather was Anton Koberger, Nuremberg's leading publisher, whose books were sent all over Europe, and his best friend from childhood was Willibald Pirckheimer, a lawyer and classical scholar who had the best private library in Germany. In 1486, aged 15, Dürer left his father's workshop to study with Michael Wolgemut, the leading local painter.
Read more
By this time he had already shown remarkable talent as a draughtsman, as is seen in his exquisite silverpoint self-portrait dated 1484 (Albertina, Vienna). (This is the earliest of several memorable self-portraits by Dürer; he was the first artist to produce a series of them at various stages of his life rather than one or two isolated examples, and they show his lofty conception of the artist's profession as well as his pride in his appearance—in addition to drawings there are three highly finished paintings in which he presents himself as a beautifully dressed and immaculately groomed gentleman, or even as a Christlike figure, rather than as a humble craftsman.) Wolgemut was a prolific book illustrator as well as a painter and Dürer must have learned the technique of woodcut from him. After completing his apprenticeship he spent the years 1490–4 travelling and gaining experience of the world. In 1492 he visited Colmar, hoping to meet Martin Schongauer, the most illustrious German painter and engraver of the day. He arrived too late, as Schongauer had recently died, but the master's brothers furnished Dürer with introductions that gained him work as a book illustrator in Basle (a major publishing centre), where he remained for over a year in 1492–3. After visiting Strasbourg, he returned to Nuremberg in 1494 and in the same year made an arranged marriage to the daughter of a local coppersmith. The union was childless and evidently unhappy (his wife had none of his intellectual interests), but it lasted until Dürer's death. A few months after the wedding he left his bride behind to make a study visit to north Italy, mainly Venice.After his return to Nuremberg in spring 1495, Dürer quickly established himself as the city's leading artist. Although he was also active as a painter, his reputation was made mainly as a printmaker, his first great success being a series of fifteen woodcuts of the Apocalypse, published in book form in 1498 with German and Latin text. Most of his woodcuts were on traditional religious subjects, but they were much more ambitious than the work of his predecessors—large in size, elaborate in technique, vivid in imagery, and rich in human feeling, marking the highest development of the technique before it was virtually superseded by line engraving. These early works tend to have crowded compositions and emphatic emotions, but Dürer became much more classical and restrained, as he learned to reconcile his native love of precise detail with Italian ideals of grandeur and harmony. In 1505–7 he made a second visit to Italy, again staying mainly in Venice. This time he was something of a celebrity, not the promising youngster of his first trip, and he painted a major altarpiece for the German church of S. Bartolommeo, Venice (Feast of the Rose Garlands, 1506, NG, Prague). In richness of colour it was intended to compete with Venetian artists on their own ground or, in Dürer's words, 'to silence those who said that I was good as an engraver but did not know how to handle the colours in painting'. Some of the local artists were evidently jealous of Dürer (he even said that he feared being poisoned by them), but he was warmly treated by Giovanni Bellini, for whom he had great admiration.Back in Nuremberg Dürer consolidated his position as Germany's leading artist and by 1509 he was prosperous enough to buy a large house (now a museum dedicated to him). Apart from prints, his work included altarpieces such as the Adoration of the Trinity (1511, KH Mus., Vienna). In 1512 the emperor Maximilian I (see Habsburg) visited Nuremberg and he later gave Dürer several commissions (he often failed to pay for these, but in 1515 he directed the civic authorities to give the artist a substantial annual allowance). Dürer's largest project for Maximilian was the design (finished 1515) of an enormous woodcut triumphal arch, laden with history and allegory, glorifying the emperor and his family. At the same time Dürer found creative outlets entirely of his own choosing, notably in three famous prints that are sometimes known as the 'Master Engravings': The Knight, Death, and the Devil (1513), showing a Christian soldier passing resolutely through the perils of life; St Jerome in his Study (1514); and the brooding, enigmatic allegory Melencolia I (1514). In these prints he attained a mastery of line engraving that has never been surpassed, achieving a richness of shading and texture that rivalled the effects of painting. The works that he produced for his own satisfaction also included more modest pieces: like his contemporary Leonardo da Vinci, with whom he is often compared, he found visual stimulation all around him and he made many wonderful drawings and watercolours of subjects that few other artists of the time would have noticed (A Hare, 1502, Albertina, Vienna). In 1519 Emperor Maximilian died, and in 1520–1 Dürer journeyed north to meet his successor Charles V, to whom he appealed successfully for a renewal of his annual allowance. He attended Charles's coronation in Aachen and visited various places in the Netherlands, where he was fêted as the acknowledged leader of his profession. The day-to-day diary that he kept on this tour, together with his drawings showing the people and places he saw, is the first record of its kind in the history of art. A good deal of other personal writing by Dürer survives, including letters and a family chronicle that he composed in 1524. These sources reveal much about his personality and beliefs, including his religious views and fears. He thought deeply about religion and became a convert to Lutherism in about 1520, but he was moderate in his opinions, wanting toleration rather than theological conflict. After his return to Nuremberg in 1521 he dedicated much of his time to writing, producing three learned treatises—on measurement (published 1525), fortifications (1527), and proportion in the human body (published soon after his death in 1528). However, he continued his activities as a printmaker and painter, and his final works include two panels of the 'Four Apostles' (1526, Alte Pin., Munich) that are often considered his masterpieces in painting. In these he summed up his life's work: the study of the ideal human figure—here depicted in forms of heroic dignity—and the expression of a deeply felt religious message.At his death Dürer was acknowledged as the leading artist of his time outside Italy and as the greatest of all printmakers. He was the first artist of the very highest rank to devote the major part of his career to prints, and their portability gave them international currency—Vasari wrote that they 'astonished the world'. Even in Dürer's lifetime his prints were extensively imitated and forged and they were reprinted and copied for generations afterwards, often as illustrations in prayerbooks and devotional works. A new phase of posthumous fame came in the Romantic period, when Dürer was acclaimed as a German national hero—the statue of him unveiled in Nuremberg in 1840 was the first such public monument ever erected to an artist. His enormous reputation has endured, and in Germany the 400th anniversary of his death (in 1928) and the 500th anniversary of his birth (in 1971) were celebrated as 'Albrecht Dürer Years'.
Text source: The Oxford Dictionary of Art and Artists (Oxford University Press)