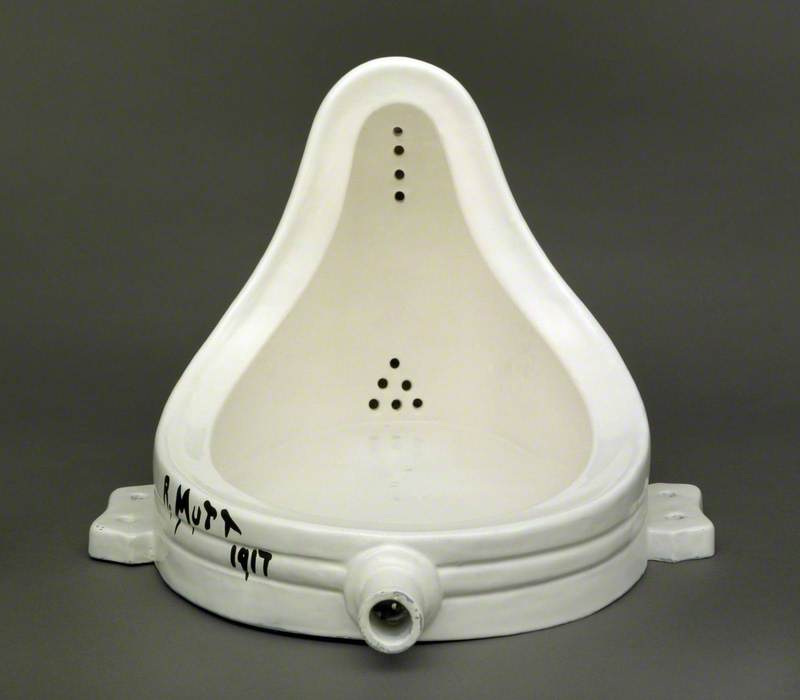 © Association Marcel Duchamp/ADAGP, Paris and DACS, London 2023. Photo credit: Tate
(b Blainville, Normandy, 28 July 1887; d Neuilly-sur-Seine, 2 Oct. 1968). French-born artist and art theorist who became an American citizen in 1955, the brother of Raymond Duchamp-Villon and Jacques Villon. His output was small (most of his key works are in the Philadelphia Museum of Art) and for long periods he was more or less inactive, but he is regarded as one of the most potent figures in modern art because of the originality and fertility of his ideas. His early works, influenced by Post-Impressionism and Fauvism, were unexceptional, but he sprang to notoriety with Nude Descending a Staircase, No. 2 (Philadelphia), which was the most discussed work at the Armory Show in 1913. It depicts a stylized, semi-abstract figure walking down a spiral staircase, movement being suggested by the use of overlapping images, in the manner of rapid-fire multiple-exposure photography.
Read more
The attention the picture received was mainly negative, but the publicity made Duchamp suddenly much better known in the USA than he had ever been in France. This first conspicuous achievement as a painter was also Duchamp's last, for from this point he virtually abandoned conventional media. From 1915 to 1923 he lived mainly in New York, where with Man Ray and Francis Picabia he formed the nucleus of the city's Dada movement. His main contribution to this was the ready-made, the best-known of which was Fountain (1917), consisting of a urinal bowl signed 'R. Mutt', which was rejected by the Society of Independent Artists. Another of his celebrated provocative gestures was adding a moustache and beard and an obscene inscription to a reproduction of the Mona Lisa (1919). During his years in New York Duchamp was engaged intermittently on his most complex and ambitious work—an enigmatic construction on glass entitled The Bride Stripped Bare by Her Bachelors, Even, often known for short as 'The Large Glass' (Philadelphia; replica by Richard Hamilton, 1965–6, in Tate Modern, London; another replica is in the Moderna Museet, Stockholm). He abandoned it as 'definitively unfinished' in 1923, but it was damaged while being transported in 1926 and ten years later he made repairs, incorporating cracks in the shattered glass as part of the image and declaring it completed 'by chance'. Scholars have produced voluminous interpretations of this work, but to many people it is an incomprehensible joke.In 1923 Duchamp returned to Paris and lived there until 1942 (although he made several visits to New York), devoting much of his time in this period to his passion for chess. He was one of the best players in France and his obsessive devotion to the game ruined his first—rather frivolous—marriage in 1927, of which Man Ray wrote: 'Duchamp spent the one week they lived together studying chess problems, and his bride, in desperate retaliation, got up one night when he was asleep and glued the chess pieces to the board. They were divorced three months later.' (With his aristocratic looks and enormous charm, Duchamp was highly attractive to women, and a friend wrote that he 'could have had his choice of heiresses'; in 1954 he made a happy second marriage to Alexina Sattler, who had previously been the wife of the art dealer Pierre Matisse, son of Henri Matisse.) In 1942 Duchamp settled permanently in New York, although he regularly visited France. By this time he seemed to have long abandoned art, but he had in fact continued to experiment quietly, for example with rotating coloured discs that anticipate Kinetic art. He also did a good deal to promote avant-garde art, particularly Surrealism, in France and the USA, notably through the activities of the Société Anonyme, but in the exciting post-war New York art world he was for many years a marginal figure. From the late 1950s, however, avant-garde artists began to rediscover his work and ideas and in his final years he was revered as a kind of patron saint of modern art. Near the end of his life he revealed that he had been working in secret for twenty years (1946–66) on a large mixed-media construction called Étant donnés: 1° La Chûte d'eau, 2° Le Gaz d'éclairage (Given: 1. The Waterfall, 2. The Illuminating Gas). It features a naturalistic painted sculpture of a nude reclining woman holding a gas lamp, with behind her a simulated landscape, including a trickle of water representing a waterfall; this elaborate tableau is viewed through peepholes in a heavy wooden door. He presented it to the Philadelphia Museum of Art, where it joined the majority of his other works.Duchamp's iconoclasm and experimental attitude have been enormously influential, most obviously on Conceptual art, but also for example on Minimal art and on Pop art, in which the ready-made has played such a big part. His wit and irony have been sadly lacking in most of his followers, however, and it could be argued that his influence has been disastrous, encouraging people of no discernible talent to believe that anything they do, say, or think is worthy of attention as art.
Text source: The Oxford Dictionary of Art and Artists (Oxford University Press)