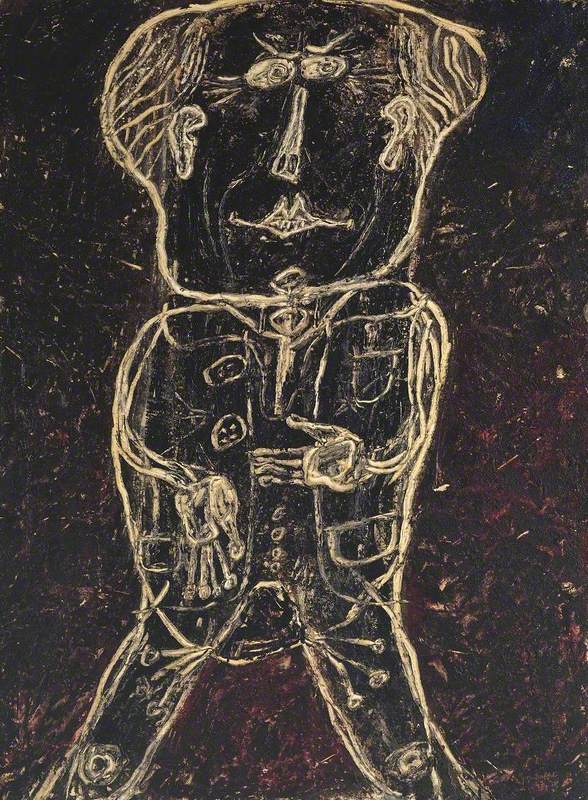 © ADAGP, Paris and DACS, London 2021. Photo credit: Tate
(b Le Havre, 31 July 1901; d Paris, 12 May 1985). French painter, sculptor, lithographer, and writer. He studied painting as a young man but was engaged mainly in the wine trade until 1942, when he took up art seriously again, his first exhibition coming in 1945. He preferred untrained spontaneity to professional skill and was fascinated by graffiti and by what he called Art Brut ('raw art'), the products of psychotics or wholly untrained persons. His own work is aggressively reminiscent of such 'popular' art, often featuring subjects drawn from the street life of Paris (Man with a Hod, 1956, Tate, London). Frequently he incorporated materials such as sand and plaster into his paintings, and he also produced sculptures made from junk materials.
Read more
His work initially provoked outrage, but then found acceptance and in some quarters reverence, and it has proved highly influential, foreshadowing many of the trends of the 1960s and beyond. He is one of the key figures in the tendency in contemporary art to depreciate traditional materials, methods, and, standards, and, as he himself said in 1957, to 'bring all disparaged values into the limelight'.
Text source: The Oxford Dictionary of Art and Artists (Oxford University Press)