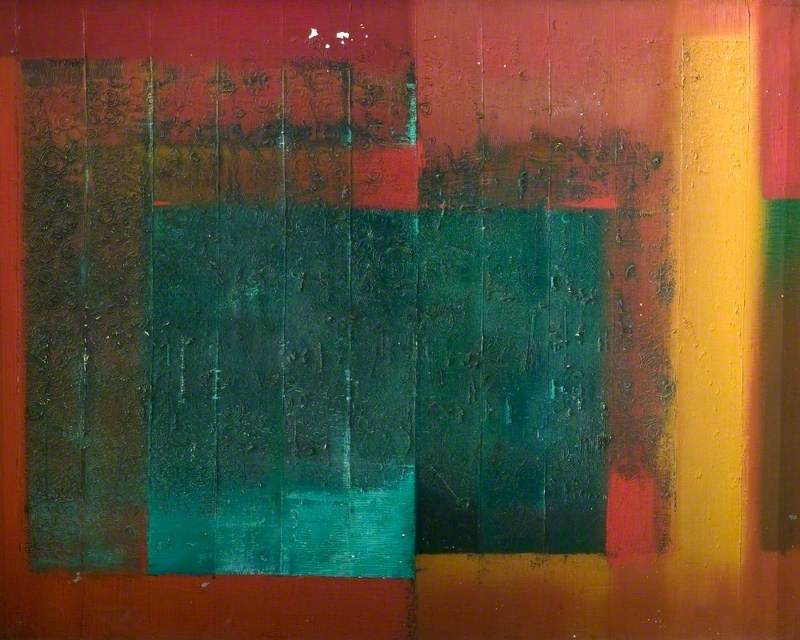 © the artist's estate. Photo credit: Leicestershire County Council Artworks Collection
Versatile and adventurous artist and teacher born in Wellington, New Zealand. From 1947 he studied at Wellington Technical College of Art, where Fred Ellis was head of school; at Wellington Teachers' Training College, 1948–9; and in 1950 completed his third year of training at Dunedin Teachers' Training College, teachers including Fred Shewell and William Reed. By then he had exhibited at Helen Hitchings Gallery, Wellington, and had produced watercolours for the National Film Unit production The Ascent of Mount Aspiring. After being art adviser to Wellington Education Board and lecturing at Wellington Teachers' Training College, in 1957 Drawbridge won a National Art Gallery Travelling Scholarship to study in London, extended for a year, which enabled him to attend the Central School of Arts and Crafts, winning a Diploma of Distinction, and tour Europe.
Read more
In 1960, he married the sculptor Tanya Ashken, exhibited at the RA Summer Exhibition and was elected an associate of RE, also showing at Zwemmer and Piccadilly Galleries. From 1960–1 Drawbridge studied with S W Hayter and Johnny Friedlander in Paris, showed with the LG, was commissioned to paint a mural for New Zealand House in London and had another bought by Leicestershire Education Committee. Drawbridge taught at Isleworth Polytechnic, 1962–3, and in 1963 had a solo show at Redfern Gallery and four large paintings in the First Commonwealth Biennale of Abstract Art. After returning to New Zealand, in 1964 Drawbridge began teaching at Wellington Polytechnic School of Design. Drawbridge's career continued to develop, with important mural and stained glass window commissions, exhibitions at home and abroad and international recognition such as his major prize at the 10th International Exhibition Bianco e Nero, Lugano, Switzerland, 1968, previous winners including David Hockney, Pablo Picasso and Jacques Villon. Wellington's City Gallery gave him a retrospective in 2001–2.
Text source: 'Artists in Britain Since 1945' by David Buckman (Art Dictionaries Ltd, part of Sansom & Company)