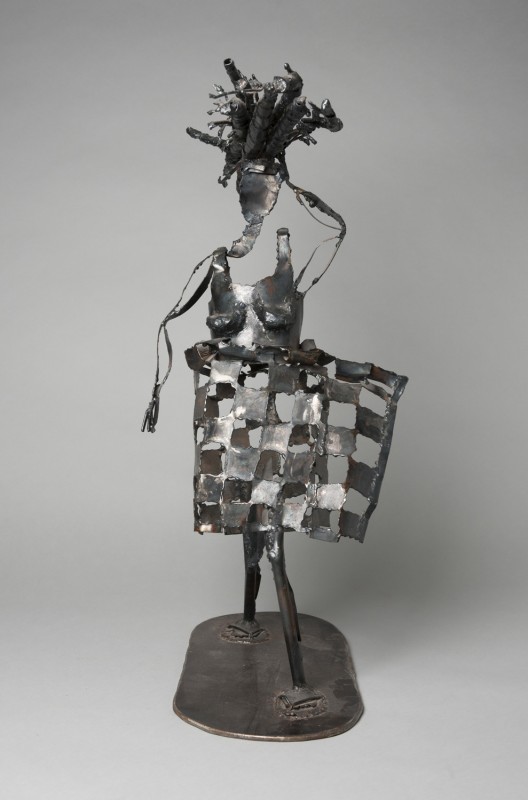 © Sokari Douglas Camp. All rights reserved, DACS 2021. Photo credit: Leicestershire County Council Artworks Collection
Sculptor in welded steel, often of everyday people and events, born in Nigeria, sometimes refered to as Sokari Camp. She graduated from Central School of Art and Design, 1983, gaining her master's degree at Royal College of Art, 1986. Among awards was the Saatchi and Saatchi Award in 1982 and the Prince of Wales Scholarship and Henry Moore Bursary, both in 1983. Took part in many group shows from New Contemporaries, 1983; From Two Worlds, Whitechapel Art Gallery and tour, 1986–7; and Africa Explores, at New Museum for Contemporary Art, New York, and tour, 1991–3. Had solo show at Bluecoat Gallery, with tour, 1988, later ones including Redfern Gallery, 1993, Morley Gallery, 2000, and The Lowry, Salford, 2002. In that year, Douglas Camp's sculpture Man on Man was unveiled at the forecourt of The Commonwealth Institute following an award from the Jerwood Art Commissions Scheme.
Read more
Then, her work was said to "refer largely to the masquerade tradition of the Kalabari, challenging a Eurocentric understanding of African culture by bringing performance, West Africa's highest form of art, to a Western tradition of sculpture." Arts Council holds her work. Lived in London.
Text source: 'Artists in Britain Since 1945' by David Buckman (Art Dictionaries Ltd, part of Sansom & Company)