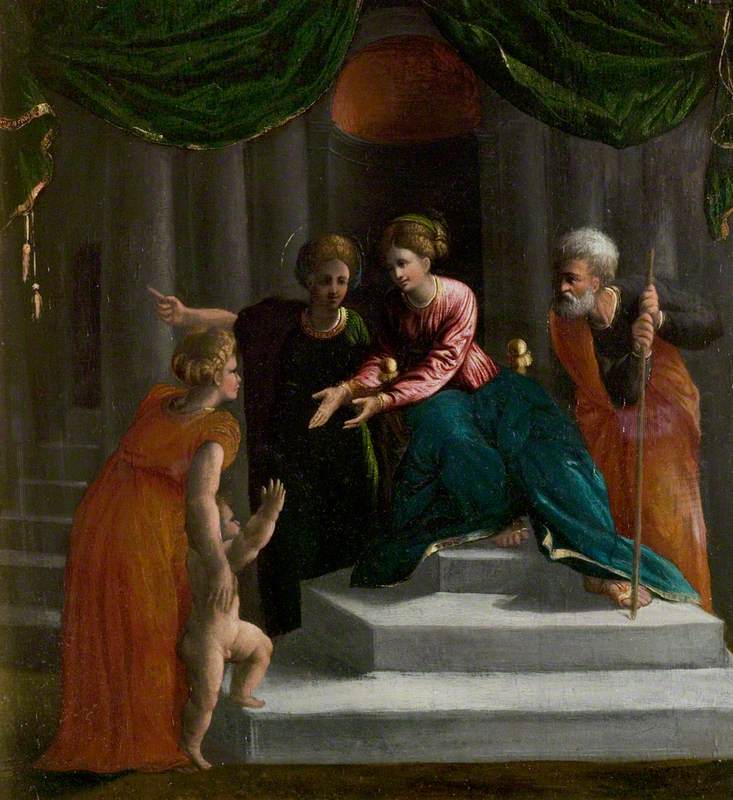 Photo credit: Nottingham City Museums & Galleries
(b ?Tramuschio, principality of Mirandola, nr. Ferrara, ?c.1485; d Ferrara, 1541/2). Italian painter, the outstanding artist of the Ferrarese School in the 16th century. His early life and training are obscure: Vasari (who met him) implies that he was born around 1474, but modern scholarship favours a date about a decade later. The nickname Dosso, by which he was known in his lifetime, derives from a small family property; the form 'Dosso Dossi' was evidently mistakenly confected in the 18th century, but it is now hallowed by usage. He is first recorded in 1512 in Mantua, and by the following year he was in Ferrara, where he spent most of the rest of his career working for the ruling Este family, sometimes collaborating with the poet Ariosto in devising court entertainments.
Read more
In Ariosto's most famous poem, Orlando Furioso, Dosso is praised alongside Mantegna, Raphael, and other leading artists. He painted various kinds of pictures—mythological and religious works, portraits, and decorative frescos—and he is perhaps most important for the part played in his work by landscape, in which he continued the romantic pastoral vein of Giorgione and Titian (he visited Venice several times and he presumably met Titian when the latter was in Ferrara in connection with a commission for Alfonso d'Este). Dosso's work, however, has a personal quality of fantasy and an opulent sense of colour and texture that give it an individual stamp (Melissa, c.1520, Borghese Gal., Rome). His younger brother Battista Dossi (?c.1497–1548) often collaborated with him (even though Vasari said they disliked each other); there is insufficient evidence to know whether Battista made an individual contribution.
Text source: The Oxford Dictionary of Art and Artists (Oxford University Press)