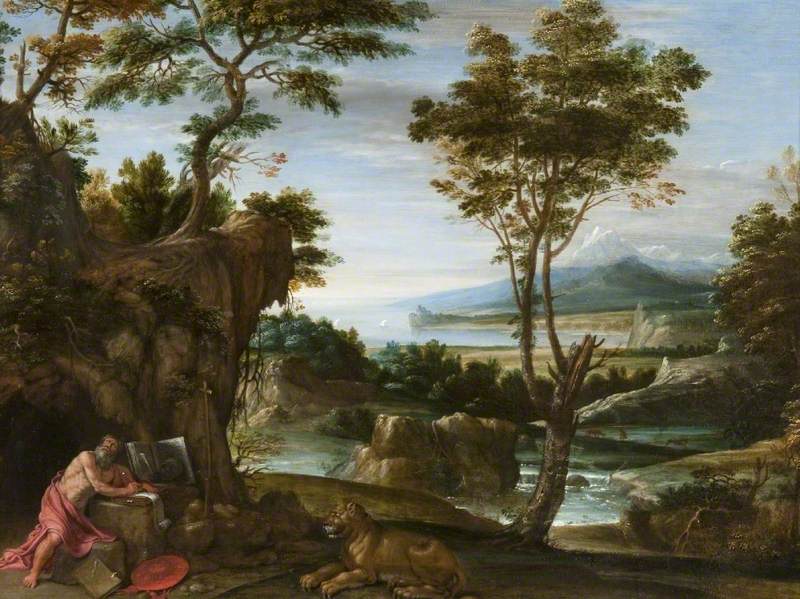 Photo credit: Glasgow Museums
(b Bologna, ?21 Oct. 1581; d Naples, 6 Apr. 1641). Bolognese painter and draughtsman. He was a favourite pupil of Annibale Carracci and one of the most important upholders of the tradition of Bolognese classicism. After studying with Calvaert and Ludovico Carracci he moved to Rome in 1602 and joined the group of artists working under Annibale on the decoration of the gallery in the Palazzo Farnese.
Read more
His only undisputed work there is the Maiden with the Unicorn, a charming, gentle fresco over the entrance of the gallery. For most of the second and third decades of the century he was Rome's leading painter; during this time he painted numerous altarpieces and had a succession of major decorative commissions, among them scenes from the life of St Cecilia in S. Luigi dei Francesi (1613–14). The dignified frieze-like composition of the figures reflects his study of Raphael's tapestries, and in turn influenced Poussin. The frescos in the pendentives and apse of S. Andrea della Valle (1624–8), his chief work of the 1620s, show a move away from this strict classicism towards an ampler Baroque style; but compared with his rival Lanfranco (who at this time was overtaking him in popularity) Domenichino never abandoned the principles of clear, firm drawing for the sake of more painterly effects. In 1631 he moved to Naples, and in his ceiling frescos of the S. Gennaro chapel in the cathedral he made even greater concessions to Baroque taste. Some Neapolitan artists were jealous of his success and were hostile towards him, leading him to flee the city in 1634 (he had an anxious and timid personality). He returned the following year, but he died (it was rumoured by poisoning) before completing his work in the cathedral.Although he was renowned mainly for his fresco decorations and altarpieces, Domenichino was also important in other fields, particularly as an exponent of ideal landscape, in which he formed the link between Annibale Carracci and Claude. He was one of the finest draughtsmen of his generation (the Royal Library at Windsor Castle has a superb collection of his drawings) and also an excellent portraitist (Pope Gregory XV and Cardinal Ludovico Ludovisi, c.1621–3, Mus. B.-A., Béziers,). In the 18th century his reputation was enormous—his Last Communion of St Jerome (1614, Pinacoteca, Vatican) was generally regarded as one of the greatest pictures ever painted—but he fell from grace in the 19th century under the scathing attacks of Ruskin, along with the other Bolognese painters. In the later 20th century his reputation greatly revived.
Text source: The Oxford Dictionary of Art and Artists (Oxford University Press)