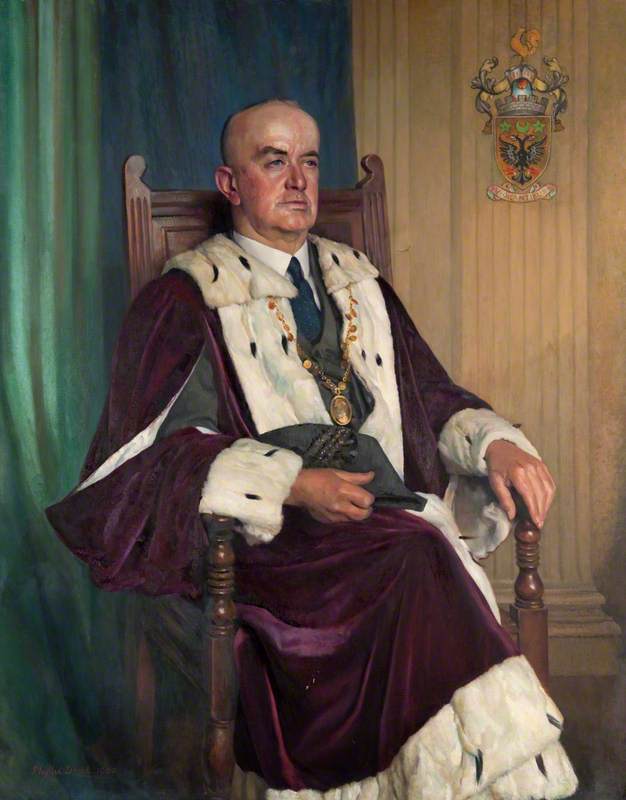 © P. and R. Bliss. Photo credit: North Lanarkshire Council / CultureNL
Painter, notably of portraits, born in Chester. Her parents encouraged her early interest in art. She won a Royal Drawing Society prize in 1909 and her mother took in paying guests to send her to Liverpool School of Art, 1917–21, where Will Penn taught her the use of a limited palette; by the 1950s she developed an interest in more positive colour. In 1921 won a Royal Exhibition, one of many awards, to Royal College of Art, 1921–5. While teaching at Walthamstow Technical College, 1925–30, obtained portrait commissions through William Rothenstein, in 1928 marrying the artist Douglas Percy Bliss. She being a perfectionist in all things, domestic life eroded Dodd's time for painting. Although when a student she had painted so concentratedly that she forgot to eat and became ill, as a housewife she said that "when there is dust on the stairs, I cannot settle down to painting.
Read more
" Showed at RA, with a notable success in 1939; had a joint exhibition with her husband at Derby Museum & Art Gallery, 1947; another joint show at St Michael's Gallery, Derby, 1983; a ninetieth-birthday show at Hatton Gallery, Newcastle, 1989; and a retrospective at the public gallery, Derby, again in 1995. Glaucoma was diagnosed in 1976; she suffered a major stroke which badly damaged her sight in 1986, a year after she painted her last major portrait; and in 1992 she became totally blind. Lived for many years in Glasgow.
Text source: 'Artists in Britain Since 1945' by David Buckman (Art Dictionaries Ltd, part of Sansom & Company)