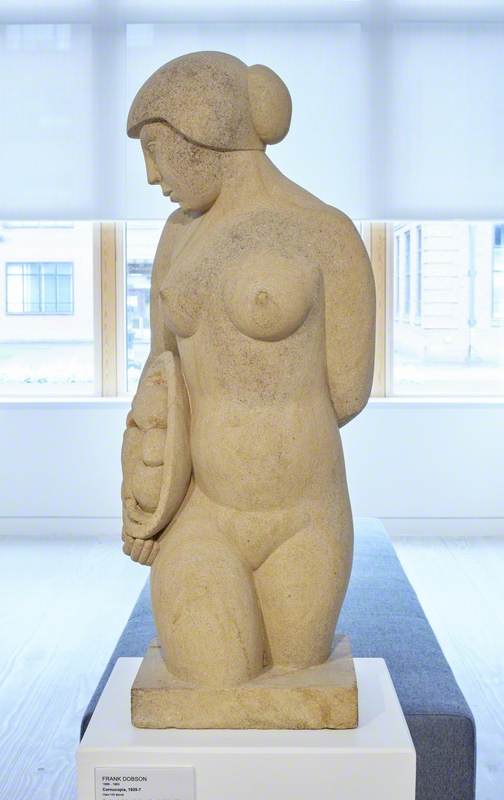 © the artist's estate. Photo credit: University of Hull Art Collection
(b London, 18 Nov. 1886; d London, 22 July 1963). British sculptor. His early work consisted mainly of paintings, the few surviving examples showing how impressed he was by the Post-Impressionist exhibitions organized by Roger Fry. After the First World War (when he was on active service with the Artists' Rifles), he turned increasingly to sculpture, and during the 1920s and 1930s he gained an outstanding reputation: in 1925 Fry described his work as 'true sculpture and pure sculpture…almost the first time that such a thing has been even attempted in England'. The monumental dignity of his work was in the tradition of Maillol, and like him Dobson found the female nude the most satisfactory subject for three-dimensional composition, as in Cornucopia (1925–7, Univ.
Read more
of Hull), described by Clive Bell as 'the finest piece of sculpture by an Englishman since—I don't know when'. His work was more stylized than Maillol's, however, and his sophisticated simplifications of form made him one of the pioneers of modern sculpture in Britain. Dobson was also outstanding as a portrait sculptor, his best-known work in this field being the head of Sir Osbert Sitwell in polished brass (1923, Tate, London). He worked in various other materials, including bronze, terracotta, and stone; his craftsmanship in all these materials was superb and he played an important role as a liberal-minded and kind-hearted teacher at the Royal College of Art, where he was professor of sculpture from 1946 to 1953. With the rise of a younger generation led by Henry Moore, however, Dobson's prestige as an artist waned: his work was regarded as dated, and the memorial exhibition organized by the Arts Council in 1966 was poorly received. Since then his reputation has greatly revived and he has again been recognized as one of the outstanding figures in 20th-century British sculpture.
Text source: The Oxford Dictionary of Art and Artists (Oxford University Press)