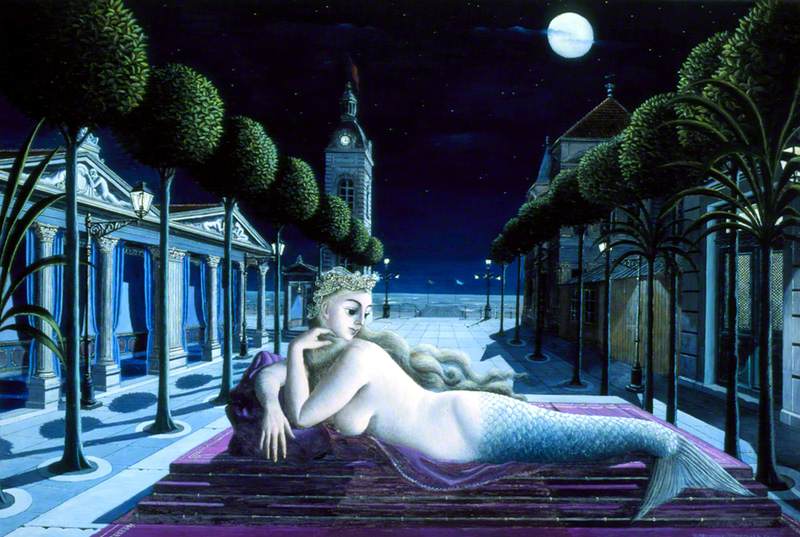 © DACS 2023. Photo credit: Southampton City Art Gallery
(b Antheit, nr. Huy, 23 Sept. 1897; d Veurne, 20 July 1994). Belgian painter. After working in Neo-Impressionist and Expressionist manners, he discovered Surrealism in 1934 and became an instant convert, destroying much of his earlier work. He was never formally a member of the movement, and was not in sympathy with its political aims, but he became one of the foremost upholders of its tradition. Most of his paintings show nude or semi-nude women in incongruous settings. The women are always of the same type—beautiful, statuesque, unattainable dream figures, lost in thought or reverie or even in a state of suspended animation. These dream beauties are often placed in elaborate architectural settings, reflecting both de Chirico's strange perspectives and Delvaux's interest in the buildings of ancient Rome (he visited Italy in 1938 and 1939).
Read more
Sometimes he included skeletons in his pictures (influenced by Ensor) and trains were another recurrent motif. A large retrospective of Delvaux's work was held at the Palais des Beaux-Arts, Brussels, in 1944, and this marked the beginning of his international reputation.
Text source: The Oxford Dictionary of Art and Artists (Oxford University Press)