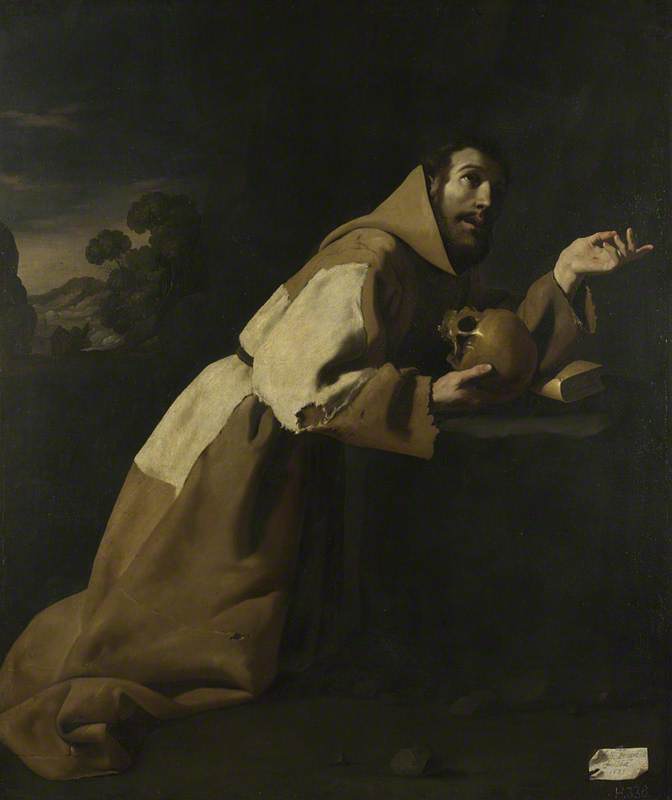 Photo credit: The National Gallery, London
(bapt. Fuente de Cantos, Extremadura, 7 Nov. 1598; d Madrid, 27 Aug. 1664). Spanish painter, active mainly in Seville, which lies about 100 km (60 miles) to the south of the village where he was born. He trained in Seville, 1614–17, then spent the next decade working at Llerana, near his birthplace. In 1627 he made his name with a powerful Christ on the Cross (Art Inst. of Chicago), painted for the Dominican monastery of S. Pablo in Seville, and its success led him to settle in the city in 1629. In 1634–5 he visited Madrid, where he worked for Philip IV (see Habsburg), painting for the Buen Retiro Palace a series of ten pictures on The Labours of Hercules and a large historical scene, The Defence of Cadiz (all now in the Prado, Madrid); apart from these pictures, a few portraits, and some masterly still lifes, he devoted himself almost entirely to religious images.
Read more
His most characteristic works are single figures of monks and saints in meditation or prayer (for example, two paintings of St Francis in the National Gallery, London, one of them dated 1639). The figures are usually depicted against a plain background, standing out with massive physical presence. In such compositionally simple and emotionally direct paintings, Zurbarán showed himself to be an ideal interpreter of Counter-Reformation doctrines, combining austere naturalism with mystical intensity. Many of his paintings were produced in series, notably a set of eight pictures of Hieronymite saints for the Order's monastery at Guadalupe (1639–40); these remain in situ and 'constitute the best surviving example of a series of monastic history painted in the seventeenth century' (Jonathan Brown, Painting in Spain: 1500–1700, 1998). The 1630s marked the peak of Zurbarán's career, and after 1640 his stream of major commissions dried up. Subsequently he produced most of his work for the South American market, much of it being done by assistants. In the later 1640s Murillo began to overtake him as the most popular painter in Seville, and Zurbarán's work lost something of its power and simplicity as he tried to come to terms with the softer, sweeter, lighter style of his rival. By the later 1650s he was experiencing financial problems, partly caused by the loss in warfare of ships bringing payments from his South American clients. In 1658 he moved to Madrid, where he spent his final years, but he failed to revive his career there. His son Juan (1620–49), who died young of the plague, is known from a few impressive still-life paintings.
Text source: The Oxford Dictionary of Art and Artists (Oxford University Press)