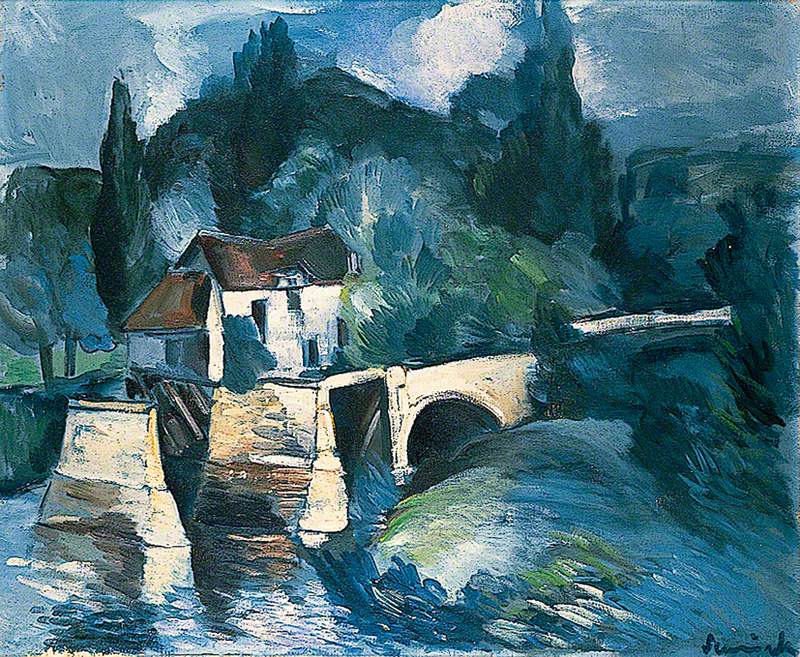 © ADAGP, Paris and DACS, London 2023. Photo credit: Norfolk Museums Service
(b Paris, 4 Apr. 1876; d Rueil-la-Gadelière, Eure-et-Loir, 10 Oct. 1958). French painter, printmaker, and writer. A colourful and many-sided character, as a young man he earned his living mainly as a racing cyclist and orchestral violinist, painting in his spare time virtually without instruction. Indeed, he delighted to inveigh against all forms of academic training and boasted that he had never set foot inside the Louvre: 'I try to paint with my heart and my loins, not bothering with style.' In 1901 an exhibition of van Gogh's work in Paris overwhelmed him, intensifying his love of pure colour, and with Matisse and Derain he became a leading exponent of Fauvism, often using paint straight from the tube in exuberant compositions—mainly landscapes.
Read more
From 1908, however, his palette darkened and his work became more solidly constructed, under the influence of Cézanne. In 1910–14 he was also mildly influenced by Cubist stylization, although he came to dislike Picasso and regard him as a charlatan. After the First World War he moved from Paris and in 1925 he settled in a farmhouse in Eure-et-Loir. His later work became rather slick and mannered, but his reputation grew steadily in France and abroad during the interwar years. After the German invasion of France in 1840, he—like other well-known artists—was courted by the Nazis for propaganda purposes, and in 1941 he visited Germany as part of a group that included Derain, Despiau, van Dongen, and Dunoyer de Segonzac. In 1944, immediately after the Liberation, he was arrested and interrogated, and although no action was taken against him, the suspicions of collaboration damaged his career. By the end of his life, however, he was more or less rehabilitated. In addition to painting he wrote novels and several volumes of memoirs.
Text source: The Oxford Dictionary of Art and Artists (Oxford University Press)