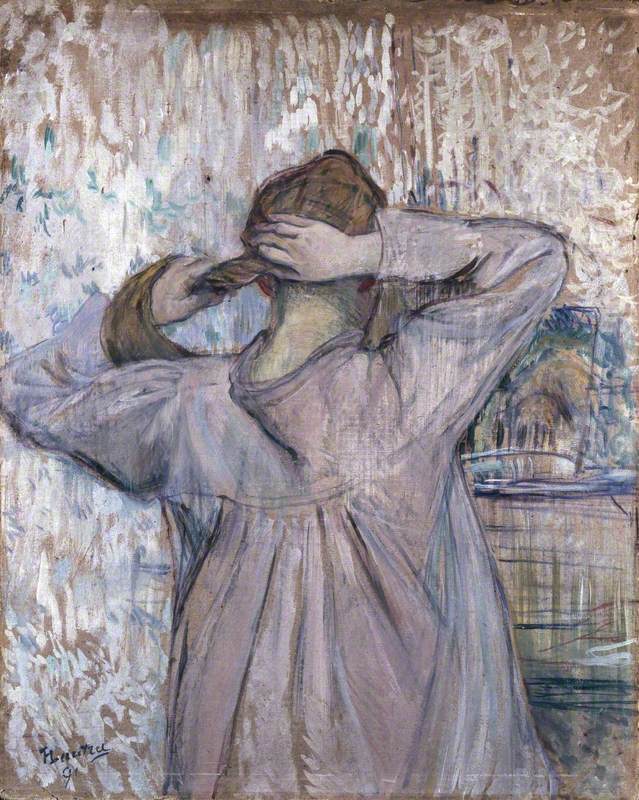 Photo credit: Ashmolean Museum, University of Oxford
(b Albi, 24 Nov. 1864; d Château de Malromé, nr. Toulouse, 9 Sept. 1901).French painter, printmaker, and draughtsman, one of the most colourful figures in 19th-century art. He showed an early talent for drawing (his father and one of his uncles were amateur artists) and in 1882 he began to study with Bonnat. The following year he became a pupil of Cormon, and in January 1884, aged 19, he was given an allowance and set up in a studio of his own in the Montmartre district of Paris, an area notorious for bohemianism and seedily glamorous nightlife. Almost all his work is taken from this world and his scenes of cafés, brothels, and nightclubs (notably the Moulin Rouge) have helped to create the popular image of fin-de-siècle Paris. He led a gruellingly dissipated life, but he was always a dedicated professional artist, and it was a matter of pride that he kept his earnings in a separate bank account from his parental allowance (his work sold well, but he was constantly short of money because he was so extravagant).
Read more
Even after a hard night's drinking he would arrive early at the printing workshop to supervise the production of his lithographs, and his output was very large considering his brief life.Lautrec received a solid, traditional training with Bonnat and Cormon (two of the most renowned teachers of the day), and although his work often gives a wonderful feeling of spontaneity, it was in fact based on constant application as a draughtsman. In this he resembles Degas, who was the Impressionist he admired most. It was partly from him and partly from Japanese prints (see Ukiyo-e) that Lautrec derived his striking use of oblique compositions, in which a scene is vividly observed as if in a sideways glance. Again like Degas, Lautrec was unconventional technically: he often painted on cardboard with very thin oil paint and he sometimes mixed normally separate media such as oil and pastel. However, whereas Degas had a reputation for aloofness, Lautrec was warm-hearted and his work is full of human sympathy. There is sometimes humour, but more often there are feelings of melancholy, disillusionment, or despair, especially in his brothel scenes. Prostitutes proved to be ideal models for him, as they were so unselfconscious in moving around naked or semi-naked, and he represented their lives with no attempt to glamorize, moralize, or sentimentalize. Lautrec sometimes lodged in brothels for weeks at a time and the prostitutes came to regard him as a friend. He concentrated on the tedious routine of their profession—waiting for clients, undergoing compulsory medical examinations, and so on—and he was particularly sensitive in depicting the lesbian relationships that often developed between them. A more extrovert side to his talents is seen in his celebrated poster designs, with which he achieved his greatest public success. Although he produced only about 30 posters (the first in 1891), he created such masterfully bold and arresting designs that he is almost universally regarded as the greatest of all artists in this field. Suffering from alcoholism and syphilis, Lautrec became seriously ill in 1899 and he died two years later, aged 36. In 1922 his mother presented a large collection of his work to the museum in his native city of Albi, which in his honour was renamed the Musée Toulouse-Lautrec. It houses memorabilia as well as works of art, including Lautrec's walking stick, which ingeniously opens up to reveal a tiny glass and flask of brandy.
Text source: The Oxford Dictionary of Art and Artists (Oxford University Press)