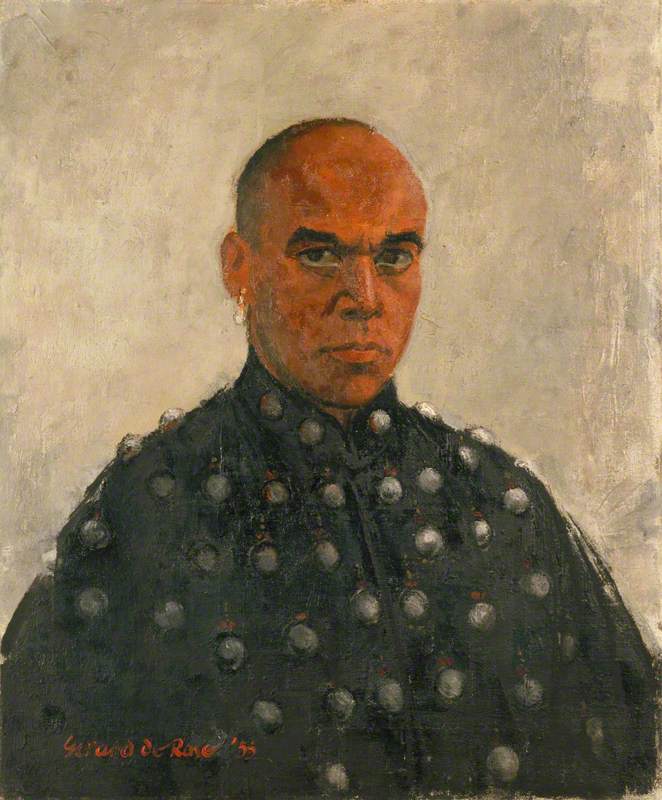 © the artist's estate. Photo credit: Victoria and Albert Museum, London
Portrait painter and teacher, born in Accrington, Lancashire, his father a surgeon and professor of music of Russian descent. Attended Accrington School of Art, then won a Royal Exhibition in textile design to Royal College of Art. He studied there in 1939 and returned to the painting school, 1946–50; during World War II served in the Royal Engineers, taking part in the Dunkirk evacuation. From 1950–8 de Rose taught at various art colleges, including London College of Printing, then was head of the faculty of fine art, Maidstone College of Art, 1958–67. He was elected RBA in 1961, also showing at RA, RP, Zaydler Gallery, Bradford and Manchester Art Galleries, Paris Salon and other venues. Solo shows included Trafford, Alwin and William Ware Galleries, Haworth Art Gallery in Accrington which holds his work and widely in America.
Read more
In the 1960s de Rose developed a reputation as a painter of the famous, subjects including the Duke of Bedford, Julie Christie, Vita Sackville-West, Rod Steiger, Sammy Davis Junior, Claire Bloom and Vladimir Nabokov, this portrait appearing on the cover of Time magazine. The portraits are notable for their astute placing of the subject against a plain background. By his peers de Rose was remembered as a flamboyant character. A small man with red hair and a stutter, he was a convivial member of the Chelsea Arts Club, a skilled amateur magician and in his youth a formidable boxer. Died in Hammersmith Hospital.
Text source: 'Artists in Britain Since 1945' by David Buckman (Art Dictionaries Ltd, part of Sansom & Company)