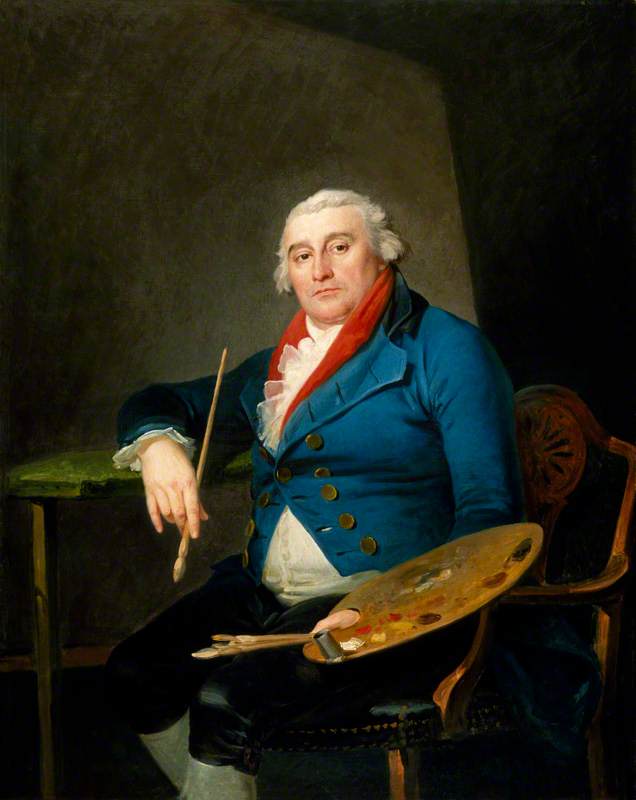 Photo credit: National Portrait Gallery, London
(b Strasbourg, 31 Oct. 1740; d Chiswick, Middlesex [now in Greater London], 11 Mar. 1812). French painter, stage designer, and illustrator, active mainly in England. He was the son of an engraver and miniaturist. In 1755 he moved to Paris, where he trained under Carle van Loo and Giovanni Battista Casanova (1728–95) (brother of the famous amorist), a painter of battle, hunting, and equestrian scenes. During the 1760s he enjoyed considerable success at the Salon, mainly with landscapes. In 1771 he settled in London, armed with an introduction to the actor-manager David Garrick, for whom he became a highly inventive designer of spectacular stage sets at Drury Lane Theatre. After Garrick's retirement in 1776, Loutherbourg continued under his successor Richard Brinsley Sheridan, but in 1781 he left Drury Lane and launched his own theatrical entertainment, the Eidophusikon.
Read more
This was a considerable success, and in the 1780s Loutherbourg also made an impact as a landscape painter at the Royal Academy exhibitions (he became an RA in 1781). He travelled widely in England and Wales, and although his landscapes can be rather stagy, they are also lively, and their feeling for Picturesque and Sublime qualities provided an influential alternative to the dominance of the Italianate tradition. In 1786 he became involved with the notorious occultist Count Cagliostro and in 1788–9 he abandoned painting for faith-healing; however, he was forced to give up the practice because of public opposition and thereafter he returned successfully to art. In his later work he turned more to history painting, including battle scenes and biblical subjects. He made numerous book illustrations and also published two collections of engravings of his work: The Picturesque Scenery of Great Britain (1801) and The Romantic and Picturesque Scenery of England and Wales (1805).
Text source: The Oxford Dictionary of Art and Artists (Oxford University Press)