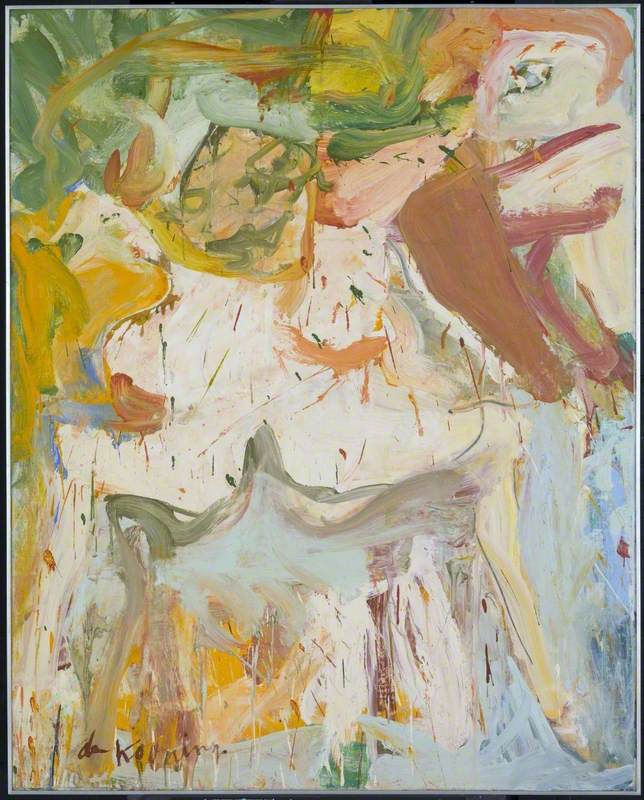 © The Willem de Kooning Foundation, New York/ ARS, NY and DACS, London 2022. Photo credit: Tate
(b Rotterdam, 24 Apr. 1904; d East Hampton, Long Island, NY, 19 Mar. 1997). Dutch-born painter (and latterly sculptor) who became an American citizen in 1961, one of the major figures of Abstract Expressionism. He went to America as a stowaway in 1926 and the following year settled in New York. His early work was conservative, but in 1929 he met Arshile Gorky, who became one of his closest friends and introduced him to avant-garde circles. During the 1930s and 1940s he experimented vigorously and by the time of his first one-man show in 1948 (at the Egan Gallery, New York) he was painting in an extremely energetic abstract style (often in black and white) close to that of Jackson Pollock. The exhibition established his reputation (although prosperity was still some years away) and after it he was generally regarded as sharing with Pollock the unofficial leadership of the Abstract Expressionist group.
Read more
Unlike Pollock, de Kooning usually retained some suggestion of figuration in his work, and in 1953 he caused a sensation when his Women series (Women nos I–VI) was exhibited at his third one-man show, at the Sidney Janis gallery. Woman I (1950–2, MoMA, New York), with its grotesque leer and frenzied brushwork, shocked the public and dismayed those critics who believed in a rigorously abstract art. One of these was Clement Greenberg, but New York's other most influential critic of avant-garde art—Harold Rosenberg—supported de Kooning. Woman I became one of the most reproduced paintings in the USA and de Kooning was enormously influential on young painters at this time. By the end of the 1950s, however, he was beginning to be regarded as an elder statesman whose best days as a creative force were past. From the 1960s he had honours heaped on him. His paintings continued to mix abstract and semi-figurative work and in 1969 he began making sculpture—figures modelled in clay and later cast in bronze. He continued working well into his eighties, until he was incapacitated by Alzheimer's disease.His wife, Elaine de Kooning (1919–89), was also a painter, notably of Expressionist portraits, and a writer on art. The couple married in 1943, separated amicably in 1957, and reunited in 1975. A collection of her writings, The Spirit of Abstract Expressionism, was published in 1994.
Text source: The Oxford Dictionary of Art and Artists (Oxford University Press)