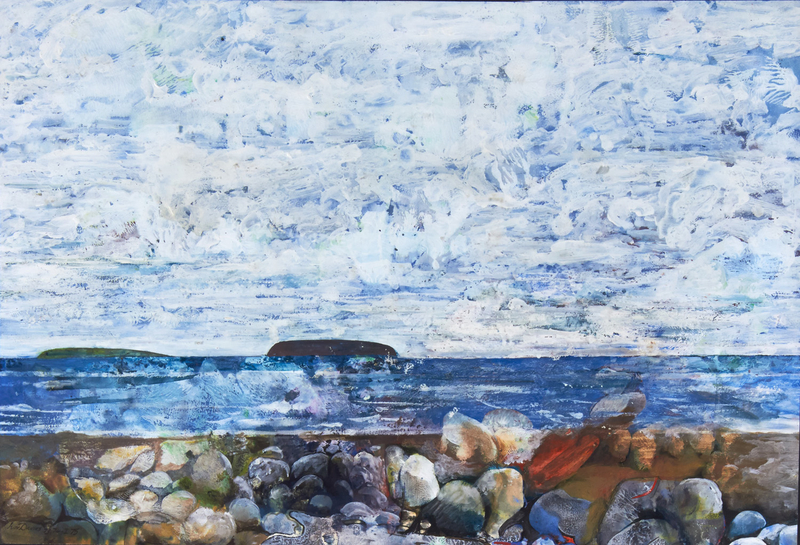 © Ivor Davies. Photo credit: North Somerset Council
Painter, printmaker, performance artist, writer and teacher, born in Treharris, Glamorgan, where he settled at Penarth. From 1952–6 Davies studied at Cardiff College of Art; 1956–7 at Swansea College of Art; then was at University of Lausanne, 1959–61, as an assistant teacher of English. A series of university teaching posts followed; Davies was from 1971–8 curator of Talbot Rice Art Centre, University of Edinburgh; and from 1978–88 was principal lecturer in history of art and head of the school of cultural studies, Gwent College of Higher Education, Newport. Exhibited widely in mixed shows, including Royal National Eisteddfod, SWG and SEA and was a member of RCamA, The Welsh Group, WSW and Beca, as well as the Association of Art Historians and International Association of Art Critics.
Read more
Had a solo show at Traverse Theatre, Edinburgh, 1968, later ones including touring exhibition from Wrexham Arts Centre, 1992–3; Bruton Gallery, Bath, 1993; Martin Tinney, Cardiff, 1994; and Brecknock Museum, Brecon, 1995. Davies won The Gold Medal in Fine Art at the 2002 National Eisteddfod, at St David's. WAC, Edinburgh and Stirling Universities hold examples. Among Davies' interests were the organisation of multi-media and experimental theatrical performances, participation in seminars on such topics as Kinetic Art and Space Art, and languages: he was fluent in, or had a working knowledge of, Welsh, English, French, Spanish, Italian, German and Russian.
Text source: 'Artists in Britain Since 1945' by David Buckman (Art Dictionaries Ltd, part of Sansom & Company)