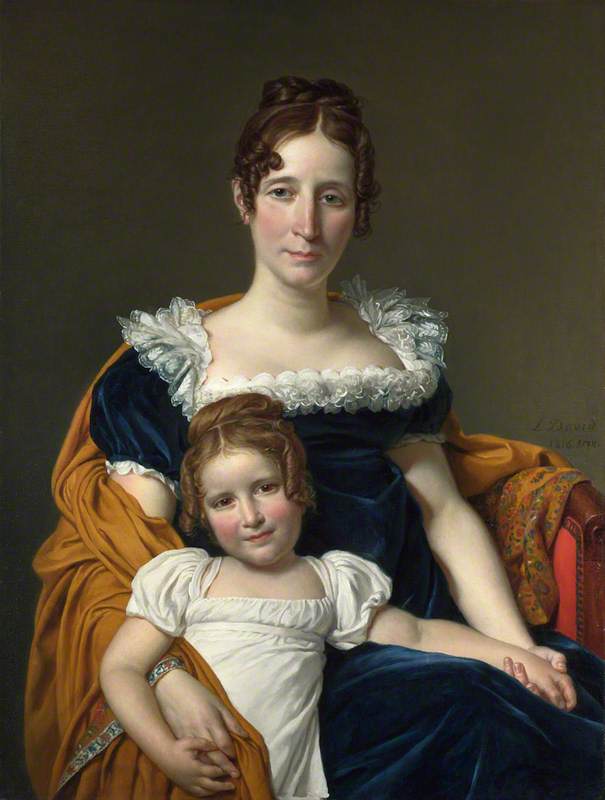 Photo credit: The National Gallery, London
(b Paris, 30 Aug. 1748; d Brussels, 29 Dec. 1825). French history painter and portraitist. He was the greatest of Neoclassical painters and one of the most influential European artists of his time. On the advice of the aged Boucher, a distant relative, he was apprenticed to Vien in 1766 and in the same year he became a student at the Académie Royale. In 1774 he won the Prix de Rome at the fifth attempt, and the following year he went to Italy with Vien, who had been appointed director of the French Academy in Rome. David remained in Italy until 1780 and during this period he purged his work of Rococo mannerisms and developed a heroic style heavily influenced by his study of antique sculpture and his admiration for Poussin and Raphael. After his return to Paris he quickly rose to be the leading painter of the day.
Read more
His success depended not only on the grandeur and dignity of his work, but also on its moral seriousness, which was in keeping with the spirit of the time. The Rococo style was associated with the frivolity of court life, and as the royal family and the aristocracy became increasingly unpopular, David's sternly Neoclassical paintings could be seen as expressions of the desire for social as well as aesthetic change. The work that more than any other established his pre-eminence was the Oath of the Horatii (1785, Louvre, Paris), which shows three ancient Roman brothers dedicating their lives to the state as they prepare to face three enemy champions in mortal combat. It has been described as 'an image of extraordinary lucidity and visual punch…a clarion call to civic virtue and patriotism' (Hugh Honour, Neo-Classicism, 1968), and its ideas of austerity, stoical self-sacrifice, and devotion to duty were repeated in two other celebrated masterpieces, the Death of Socrates (1787, Met. Mus., New York) and the Lictors Bringing Brutus the Bodies of his Sons (1789, Louvre). These three pictures were acclaimed by critics and public alike and they mark the summit of Neoclassical painting.After the Revolution in 1789, with which he was entirely in sympathy, David became actively involved in politics (he served on various committees and voted for the execution of Louis XVI) and he used his art directly as propaganda. He made designs for Revolutionary festivals, and his paintings of the time included three pictures of 'martyrs of the Revolution', in which he moved portraiture into the domain of universal tragedy. They were: the Death of Lepelletier (1793, destroyed, but known from an engraving), the Death of Marat (1793, Mus. Royaux, Brussels), and the Death of Bara (1794, Mus. Calvet, Avignon; unfinished). After the fall of his friend Robespierre (1794), however, David was imprisoned for having supported him, narrowly escaping the guillotine; he was released after pleas from his ex-wife, who had divorced him because of his Revolutionary sympathies (she was a royalist). They remarried in 1796, and David's Intervention of the Sabine Women (1794–9, Louvre), begun while he was in prison, is said to have been painted to honour her, its theme being one of love prevailing over conflict. It was also interpreted at the time, however, as a plea for reconciliation in the civil strife that France suffered after the Revolution and it was the work that re-established David's fortunes. By the time it was finished, Napoleon had restored order to France. David transferred his allegiance to him ('Bonaparte is my hero', he said after first meeting him in 1798) and became one of the leading artists in depicting his life and legend. Napoleon, in turn, showered David with honours and after he was crowned emperor in 1804 gave him the title of first painter (although he eventually came to prefer the work of Gros, David's former pupil). David's commissions from Napoleon included various portraits and a projected series of four huge pictures of events from his life, of which only two were produced: the Coronation of Napoleon (1805–7, Louvre) and the Presentation of the Eagle Standards (1808–10, Versailles). These two pictures show a change in technique and feeling from his earlier work, severe compositions and cold colours giving way to a new feeling for pageantry and an almost Romantic warmth and ardour (he hated the Romantic movement, but he influenced it greatly). After the final defeat of Napoleon in 1815, David (who had signed a declaration of loyalty to the emperor) left France and settled in Brussels in 1816. He was now approaching 70 and the paintings from his final decade in exile have generally been regarded as an undistinguished coda to his life, his work weakening as the possibility of exerting a moral and social influence receded. However, the sensuous qualities of his late mythological paintings are now winning appreciation, and he continued to be an outstanding portraitist, although he never surpassed such earlier achievements as the great Napoleon Crossing the Alps (1800, KH Mus., Vienna, one of four versions) or the coolly erotic Madame Récamier (1800, Louvre). David was the most important teacher of his day and he was loyally supported by his many former pupils (notably Gros, who took over the master's studio in Paris and tried to bring about his return to France, even though David was content in Brussels). His other pupils included Gérard, Girodet, and Ingres, and he also had prominent followers among artists who did not actually study with him, notably Guérin: 'I founded a brilliant school. I painted pictures that the whole of Europe came to study.' These artists, sometimes referred to as the 'School of David', formed the most prestigious group of painters in Europe in the early 19th century; David was perhaps the last great painter to create such a following.
Text source: The Oxford Dictionary of Art and Artists (Oxford University Press)