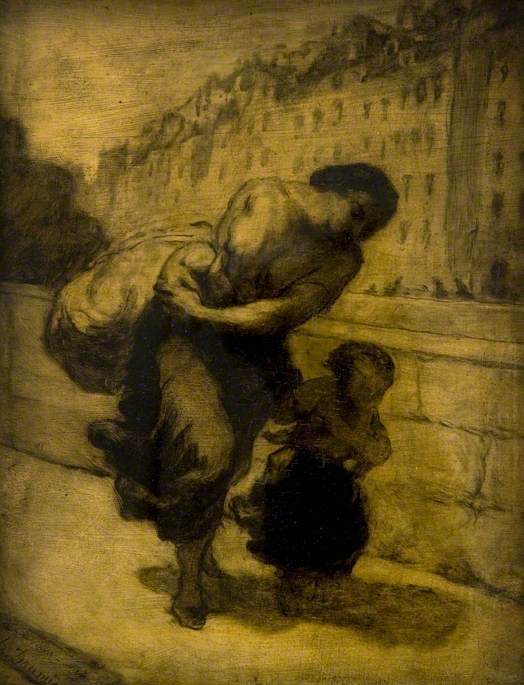 Photo credit: Glasgow Life Museums
(b Marseilles, 26 Feb. 1808; d Valmondois, 10 Feb. 1879). French caricaturist, painter, and sculptor. During his lifetime he was known chiefly as a political and social satirist, but since his death he has been increasingly recognized as a painter. In 1830, after learning the still fairly new process of lithography, he began to contribute political cartoons to the newly launched anti-monarchist weekly La Caricature. He was an ardent Republican and in 1832 was sentenced to six months' imprisonment for his attacks on King Louis Philippe, whom he represented as 'Gargantua swallowing bags of gold extorted from the people'. In 1835 the government prohibited political caricature and Daumier turned to social satire, mainly in Le Charivari, but at the time of the 1848 revolution, in which Louis Philippe was deposed, he returned to political subjects.
Read more
He is said to have produced more than 4,000 lithographs, wishing each time that the one he had just made could be his last. His paintings were probably done for the most part fairly late in his career. He had examples accepted four times by the Salon, but otherwise he never exhibited them and they remained practically unknown up to the time of an exhibition held at Durand-Ruel's gallery in 1878, the year before his death. Most of them depict contemporary life and manners with satirical overtones, but he also did a number on literary and mythological themes (Don Quixote and Sancho Panza, c.1865, Courtauld Gal., London). His technique was remarkably broad and free. As a sculptor he specialized in caricature heads and figures, and these too are in a very spontaneous style. In particular he created the memorable figure of 'Ratapoil' ('skinned rat'), who embodied the sinister agents of the government of Louis Philippe. (A similar political type in his graphic art was 'Robert Macaire', who personified the unscrupulous profiteer and swindler.) As a caricaturist Daumier stands head and shoulders above all others of the 19th century. The essence of his satire lay in his power to interpret mental states in terms of physical absurdity, but in his directness of vision and lack of sentimentality he has affinities with the Realism of Courbet. Although he never made a commercial success of his art, he was appreciated by the discriminating, his friends and admirers including Baudelaire, Degas, Delacroix, and Forain. In his final years he was almost blind and was saved from destitution by Corot.
Text source: The Oxford Dictionary of Art and Artists (Oxford University Press)