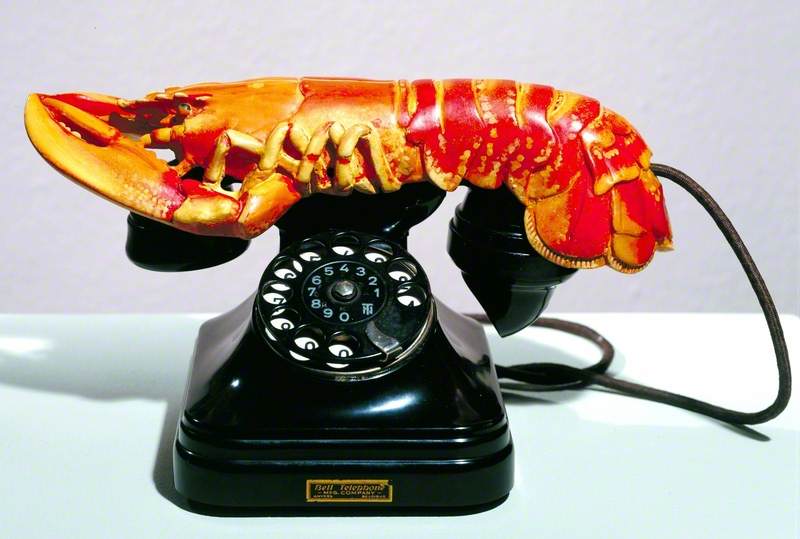 © Salvador Dali, Fundació Gala-Salvador Dalí, DACS 2023. Photo credit: Tate
(b Figueras, Catalonia, 11 May 1904; d Figueras, 23 Jan. 1989). Spanish painter, sculptor, graphic artist, designer, film-maker, and writer. After working in a variety of styles, influenced by Cubism, Futurism, and Metaphysical Painting, he had turned to Surrealism by 1929. In that year he had a sell-out exhibition in Paris; André Breton wrote the catalogue preface, and this marked Dalí's official membership of the movement. His talent for self-publicity rapidly made him its most famous representative—its symbol in the mind of the general public. Throughout his life he cultivated eccentricity and exhibitionism, claiming that this was the source of his creative energy (one of his most outrageous stunts was delivering a lecture at the London International Surrealist Exhibition in 1936 dressed in a diving suit (to show he was plunging into the depths of the human mind); he almost suffocated).
Read more
He adopted the Surrealist idea of automatism but transformed it into a more positive method that he named 'critical paranoia'. This involved elaborating on the images of his dreams and fantasies and substituting them for—or merging them with—the world of natural appearances. It resulted particularly in the ambiguous double images that play such a large part in his work, in which a form can be read, for example, as part of a landscape or part of a human body.During the heyday of Surrealism in the 1930s Dalí produced several of the established 'icons' of the movement, using a meticulous academic technique that was contradicted by the unreal 'dream' space he depicted and by the strangely hallucinatory character of his imagery. He described his pictures as 'hand-painted dream photographs' and had certain favourite and recurring images, such as the human figure with half-open drawers protruding from it, burning giraffes, and watches bent and flowing as if made of melting wax (The Persistence of Memory, 1931, MoMA, New York). Dalí himself said that the melting watches—one of the most parodied images in 20th-century art—were inspired by eating a ripe Camembert cheese, but some commentators have sought deeper meanings, seeing them, for example, as expressing a fear of impotence. In the late 1930s Dalí made several visits to Italy and adopted a more traditional style; this together with his political views (he was a supporter of General Franco) led Breton to expel him from the Surrealist ranks. He moved to the USA in 1940 and remained there until 1948. During this time he devoted himself largely to self-publicity and making money (Breton coined the anagram 'Avida Dollars' for his name). From 1948 he lived mainly at Port Lligat in Spain, but he also spent much time in Paris and New York. Among his late paintings the best known are probably those on religious themes (Christ of St John of the Cross, 1951, Kelvingrove AG, Glasgow), although sexual subjects and pictures centring on his wife Gala were also continuing preoccupations. In old age he became one of the world's most famous recluses, generating rumours and occasional scandals to the end.Apart from painting, Dalí's output included sculpture, book illustration, jewellery design, and work for the theatre. In collaboration with the director Luis Buñuel he also made the first Surrealist films—Un chien andalou (1929) and L'Âge d'or (1930)—and he contributed a dream sequence to Alfred Hitchcock's Spellbound (1945). He also wrote a novel, Hidden Faces (1944), and several volumes of flamboyant autobiography. Although he is undoubtedly one of the most famous artists of the 20th century, his status is controversial: many critics consider that he did little if anything of consequence after his classic Surrealist works of the 1930s. There is a museum devoted to Dalí in Figueras, his home town in Spain, and another in St Petersburg, Florida.
Text source: The Oxford Dictionary of Art and Artists (Oxford University Press)