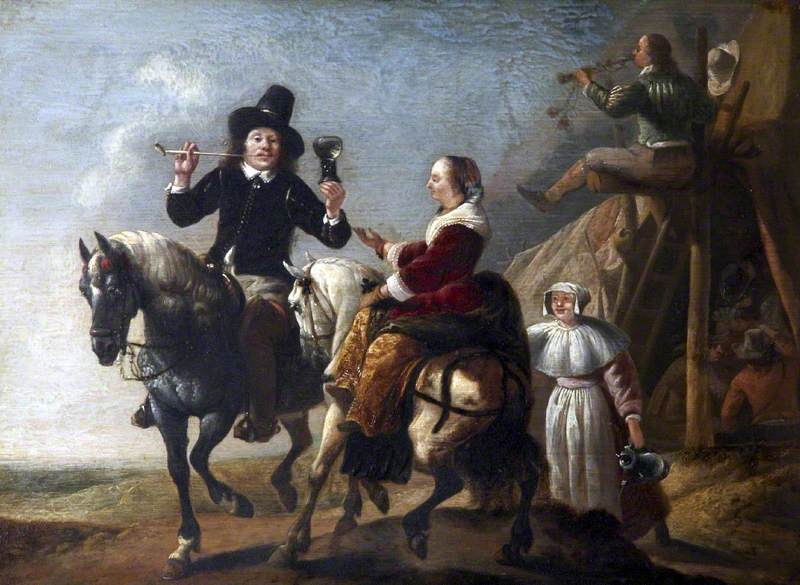 Photo credit: National Trust Images
The name of a family of Dutch painters of Dordrecht, of which three members gained distinction. Jacob Gerritsz. Cuyp (b Dordrecht, Dec. 1594; d Dordrecht, 1652) was the son of a glass painter and according to Houbraken was a pupil of Abraham Bloemaert in Utrecht. His output was varied, but he is now best known as a portraitist—his portraits of children are particularly fine. Benjamin Gerritsz. Cuyp (bapt. Dordrecht, Dec. 1612; bur. Dordrecht, 28 Aug. 1652) was the half-brother of Jacob. He is known mainly for paintings of biblical and genre scenes that use melodramatic light and shade in the manner of the young Rembrandt. Aelbert Cuyp (bapt. Dordrecht, Oct. 1620; bur. Dordrecht, 15 Nov. 1691) is the most famous member of the family and now one of the most celebrated of all landscape painters, although he also painted many other subjects.
Read more
He was the son and probably the pupil of Jacob Gerritsz. Cuyp. His early works also show the influence of Jan van Goyen. Although he is so closely associated with Dordrecht, Aelbert seems to have travelled along his country's great rivers to the eastern part of the Netherlands, and he also painted views of Westphalia. A prodigious number of pictures are ascribed to him, but his oeuvre poses many problems. He often signed his paintings but rarely dated them, and a satisfactory chronology has never been established. Although he had little influence outside Dordrecht, he had several imitators there, and some of the paintings formerly attributed to him are now given to Abraham van Calraet (1642–1722), who signed himself 'AC' (the same initials as Cuyp). In 1658 Cuyp married a rich widow, and in the 1660s he seems to have virtually abandoned painting. He was almost forgotten for two generations after his death, then was rediscovered in the late 18th century, when he started to become particularly popular with British collectors. He is still much better represented in British collections, public and private, than in Dutch museums (there are eleven pictures by him in the National Gallery, London, for example). His finest works—typically river scenes and landscapes with placid, dignified-looking cows—show great serenity and masterly handling of glowing light (usually Cuyp favoured the effects of the early morning or evening sun). He approaches Claude more closely in spirit than any of his countrymen who travelled to Italy.
Text source: The Oxford Dictionary of Art and Artists (Oxford University Press)