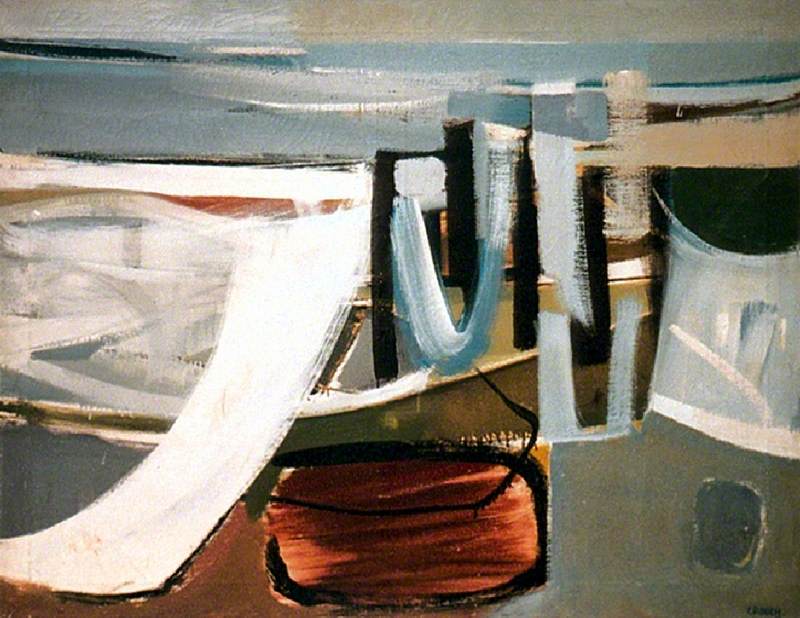 © the artist's estate. Photo credit: Jonathan Bowman, J9 Solutions (UK) Ltd
Painter and draughtsman who gained his Intermediate Diploma in Design, Brighton College of Art, 1948, his National Diploma there, 1950, and his Art Teacher's Diploma, 1951, then studied as a postgraduate at the Royal Academy Schools, 1956. He had two pictures selected for Jack Beddington's 1957 book Young Artists of Promise. Crouch was a part-time lecturer at Battersea Institute, 1955–62; Brighton College of Art and Design, 1962–5; Kingston Polytechnic/University, 1963–88; West Surrey College of Art and Design, 1965–76; and Epsom School of Art and Design, 1982–5. His early work was shown in many group exhibitions, including the LG, Wildenstein, Young Contemporaries, Grabowski Gallery, the AIA and elsewhere, later appearances including Vital Art, Atlantis Gallery, 1998.
Read more
He had two retrospectives at Johnson Wax Kiln Gallery, Farnham Maltings, in 1981, with a further exhibition there in 1987. Then, Crouch explained how he had over the years experimented with more abstract and self-contained pictures, colour-field paintings and smaller reliefs before in 1980 again making works which were freer in execution, often in construction form, which referred to events, moods and places important to him. After a solo show of Recent Work at the Pike Gallery in 1992, Llantarnam Grange Arts Centre, Cwmbran, toured his show Gardens And Landscapes through Wales in 1992–4. There was a one-man of Recent Work at Gallery 7, Hong Kong, in 1994; Works on Paper, Pallant House Gallery, Chichester, 1995, and Kingston University, 1996; and another Llantarnam Grange show, Brian Crouch, Home and Away, Recent paintings, toured Wales from 2000. British Rail, Financial Times, Cambridge City Education Committee and other public collections held works.
Text source: 'Artists in Britain Since 1945' by David Buckman (Art Dictionaries Ltd, part of Sansom & Company)