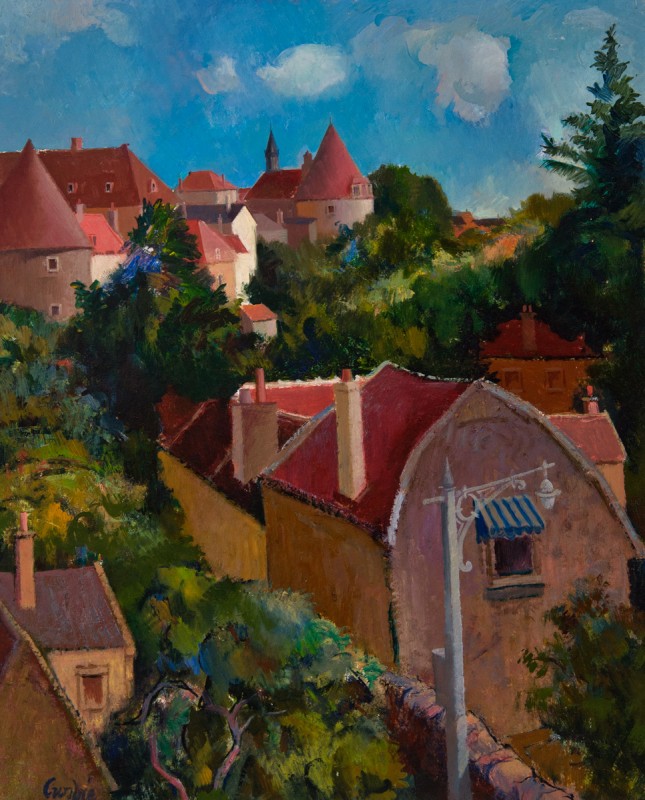 © the artist's estate. Photo credit: National Trust for Scotland, Culzean Castle, Garden & Country Park
Painter, draughtsman and mural artist, born in Hankow, China, of Scottish parents. The family stayed in China until 1926; Crosbie had a Chinese tutor, and Oriental philosophy remained a potent force in his life and work. After toying with the idea of a commercial career back in Glasgow, Crosbie decided instead to be a painter and studied at the School of Art, 1932–5. A Haldane Travelling Scholarship took him to Paris, where he studied history of art at the Sorbonne and worked under Fernand Léger and Aristide Maillol. He then joined an archaeological expedition to Egypt, where he copied friezes on temple walls, but was back in Britain to serve in the Merchant Navy and Civil Defence during World War II. Crosbie now made a name as a mural painter through his association with architects such as Basil Spence; the Victoria & Albert Museum's Britain Can Make It show in 1946 and the Festival of Britain, in 1951, were examples.
Read more
He did some book illustration, designed the sets of Eric Chisholm's ballet The Earth Shapers and produced wood and stone carvings for churches. Crosbie showed regularly in mixed Scottish exhibitions, having many solo shows. There were retrospectives at Scottish Gallery, Edinburgh, in 1980, and at Ewan Mundy & Celia Philo, Glasgow and London, 1990. Ewan Mundy put on an eightieth birthday exhibition in Glasgow in 1995, a memorial show in 2000. Crosbie was made an associate of RSA in 1953, a full RSA 20 years later. His work is hard to classify, as he was extremely versatile, a fine draughtsman and brilliant Colourist. Scottish Arts Council and Scottish National Gallery of Modern Art hold his work. Latterly Crosbie worked mainly at Petersfield, Hampshire.
Text source: 'Artists in Britain Since 1945' by David Buckman (Art Dictionaries Ltd, part of Sansom & Company)