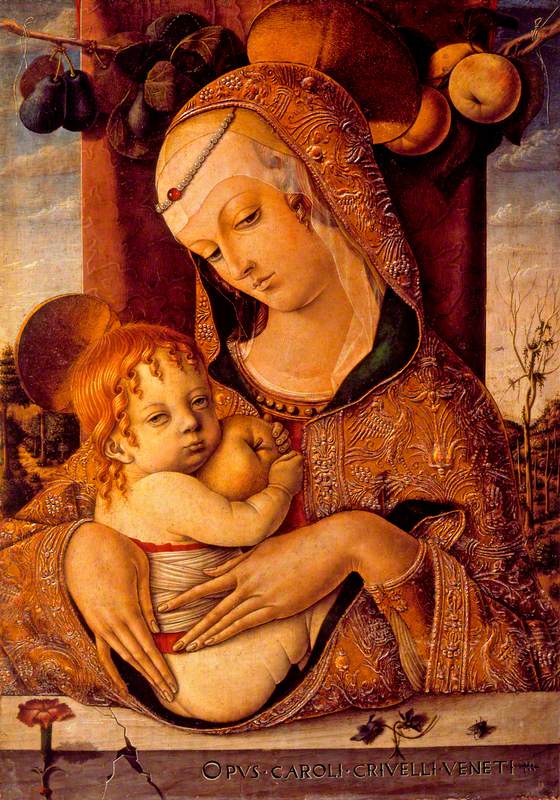 Photo credit: Victoria and Albert Museum, London
(b ?Venice, c.1430/5; d Ascoli Piceno, 1493/5). Italian painter. He always signed himself as a Venetian, but he is only once recorded in the city (in 1457 when he was fined and sentenced to six months' imprisonment for committing adultery) and he spent most of his career working in the Marches, particularly at Ascoli Piceno; he also lived for some time at Zara in Dalmatia (now Zadar, Croatia), which at this time was part of Venetian territory. Ascoli Piceno was for a time controlled by Naples and in 1490 Crivelli was knighted by Prince Ferdinand of Capua (later Ferdinand II of Naples), an indication of the high contemporary reputation he enjoyed. His paintings are all of religious subjects, done in an elaborate, old-fashioned style that owes much to the wiry Paduan tradition of Squarcione and Mantegna and yet is highly distinctive, with a rich vein of fantasy.
Read more
Their dense ornamentation is often increased by the use of gesso decoration combined with the paint. The finest collection of his works is in the National Gallery in London and includes the delightful and much-reproduced Annunciation (1486). Vittore Crivelli (d1501/2), Carlo's younger brother, was a faithful but pedestrian follower.
Text source: The Oxford Dictionary of Art and Artists (Oxford University Press)