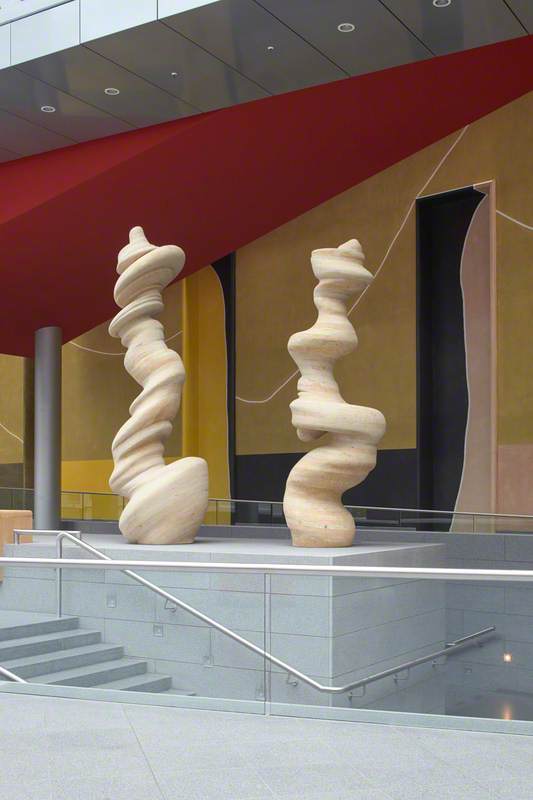 © DACS 2021. Photo credit: Government Art Collection
Sculptor and teacher, born in Liverpool. he studied at Gloucester, Wimbledon and the Royal College of Art, 1969–77. In that year he moved to Wuppertal, Germany, teaching at Düsseldorf Kunstakademie. Within a decade he had several dozen solo shows, including London, Berlin, Hamburg, Paris, Naples, Genoa, Tokyo, New York, Toronto and Middleburg. In the late 1980s Cragg represented Britain at the Venice Biennale and won the Turner Prize, 1988. From the outset Cragg used found objects to create his sculptures, as diverse as seashore objects or plastic debris. Cragg was also interested in the creation of monolothic forms, from metal, stone and glass, as in Subcommittee, shown in his 1991 Lisson Gallery exhibition. Much of Cragg's work with everyday objects started with the idea that it was the artist's duty to discover the poetry, pathos and hidden values in them to transform our way of looking at them.
Read more
Retrospectives in 1992 at Tramway and Centre for Contemporary Art, Glasgow, with one at Whitechapel Art Gallery, 1996. Cass Sculpture Foundation organised "the largest exhibition of Tony Cragg's outdoor sculptures in Britain to date" in 2005–6. Cragg was elected RA in 1994. Arts Council and Tate Gallery hold his work.
Text source: 'Artists in Britain Since 1945' by David Buckman (Art Dictionaries Ltd, part of Sansom & Company)