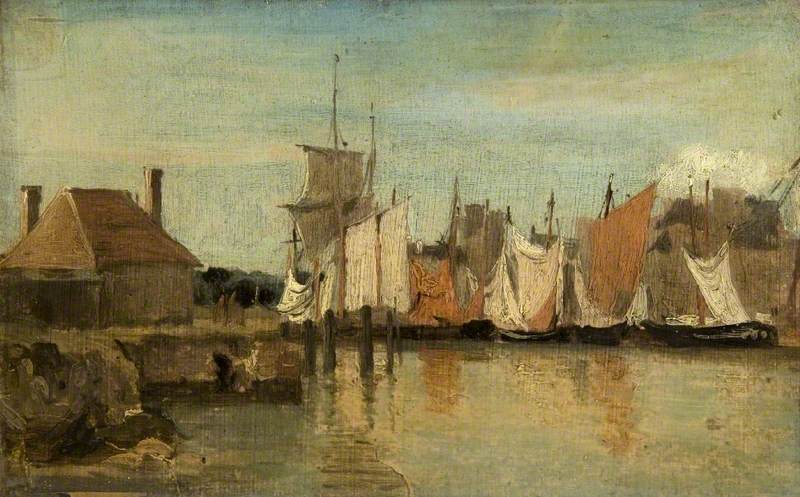 Photo credit: Glasgow Life Museums
(b Paris, 17 July 1796; d Paris, 22 Feb. 1875). French painter, mainly of landscapes. His father was a textile merchant and his mother a fashionable dressmaker, and he was expected to follow them into the clothing business. In 1822, however, at the age of 26, he was allowed to give up his commercial career, to which he was ill suited, and devote himself to art, which was his passion; his parents gave him generous financial support, so he was able to follow his own interests without having to worry about earning a living. He studied briefly with Achille-Etna Michallon (who died soon after their association began) and then with Jean-Victor Bertin (1767–1842). Both his teachers had been pupils of Valenciennes, and through them Corot inherited the classical tradition of which Valenciennes had been the main upholder in the previous generation.
Read more
However, he brought a personal poetry to this tradition and an unaffected naturalness reflecting the sketches from nature that formed the basis for his finished pictures; his work has a wonderful feeling of clarity and balance, but he seems to achieve this instinctively, without any striving for effect. He was based in Paris all his life but travelled a good deal in France and abroad, visiting Switzerland several times and also Italy (1825–8, 1834, and 1843), the Low Countries (1854), and England (1862). From 1827 Corot exhibited regularly at the Salon; his reputation grew steadily from the 1830s and by 1850 he was established as a major figure. His initial success was based mainly on a type of picture that was very different from his topographical work—more traditionally Romantic in its evocation of an Arcadian past, and painted in a misty soft-edged style that contrasts sharply with the luminous clarity usually associated with him. Throughout his career Corot also painted figure studies, as well as portraits of friends and relatives, and from the 1850s figure painting (notably of the female nude) assumed greater importance in his output; this aspect of his work has only fairly recently emerged from neglect. His directness of vision and sincerity of feeling were greatly admired by landscape painters of the later 19th century, and he took a lively interest in the work of younger artists: Daubigny, Pissarro, and Sisley were among those who profited from his advice. His popularity with collectors was (and is) such that he is said to be the most forged of all painters (this in addition to an already large output). In his lifetime he was held in great esteem as a man as well as an artist, for he had a noble, generous, almost saintly nature and was completely unspoilt by his success (even the normally caustic Degas described him as 'an angel who smokes a pipe'): he supported Millet's widow, for example, and gave a cottage to the poor and almost blind Daumier.
Text source: The Oxford Dictionary of Art and Artists (Oxford University Press)