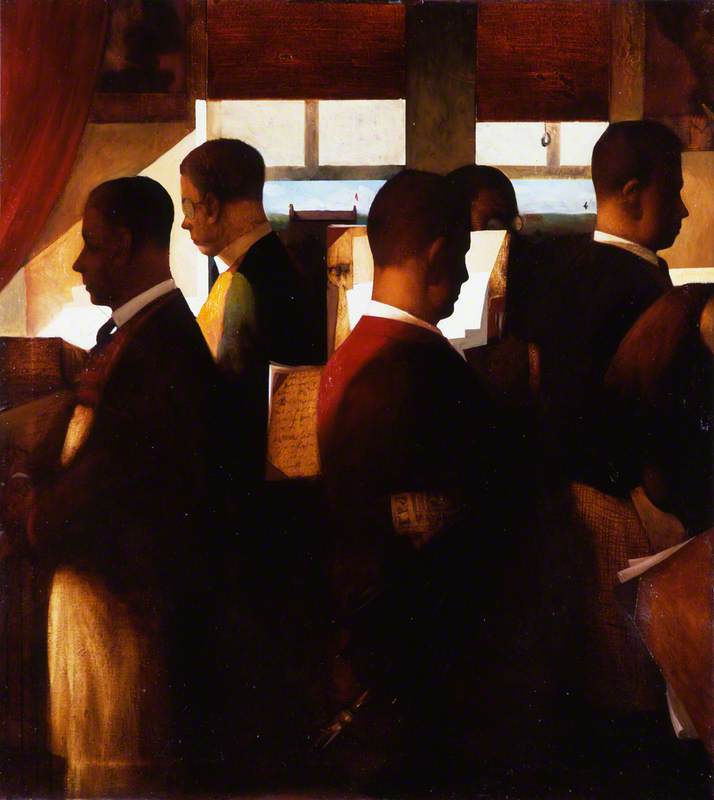 © the artist. Photo credit: Aberdeen Art Gallery & Museums
Scottish painter. He was born at Helensburgh, near Dumbarton, and studied at *Glasgow School of Art, 1982–7. Even before starting his postgraduate year (1986–7), he had achieved considerable success, and he was soon being hailed as the boy wonder of Scottish painting. In 1986 he won first prize for painting at the *Royal Academy's British Institute Fund Awards and his degree show sold out. In 1987 he was the youngest artist included in 'The Vigorous Imagination', the main exhibition at the Edinburgh Festival, in 1988 he was interviewed in Vogue magazine, and in 1989 he had a one-man exhibition at *Marlborough Fine Art, one of the most prestigious London dealers. This rapid rise to fame was not without its problems, for he became embroiled in a legal dispute (eventually settled out of court) over a contract he regretted signing with a management firm, evoking comparisons with the tribulations of certain pop singers: 'I tried so hard to avoid "hype" and commercialization', he said.
Read more
Conroy had begun his studies at Glasgow School of Art just as Steven *Campbell was leaving it for America in a blaze of glory, and he was influenced by him in his choice of enigmatic figurative subjects. Conroy, however, differs from Campbell in various ways: he works more slowly and deliberately, making detailed preparatory drawings, typically uses softer handling and warmer lighting, and employs more formal poses (his figures sometimes wear evening dress, recalling the theatre pictures of *Degas or *Sickert). Duncan Macmillan has perceptively compared 'his young men with their uniform appearance and dead-pan faces and the vague echo that they carry of belonging to another time' to *Gilbert & George (Scottish Art in the 20th Century, 1994).
Text source: A Dictionary of Modern and Contemporary Art (Oxford University Press)