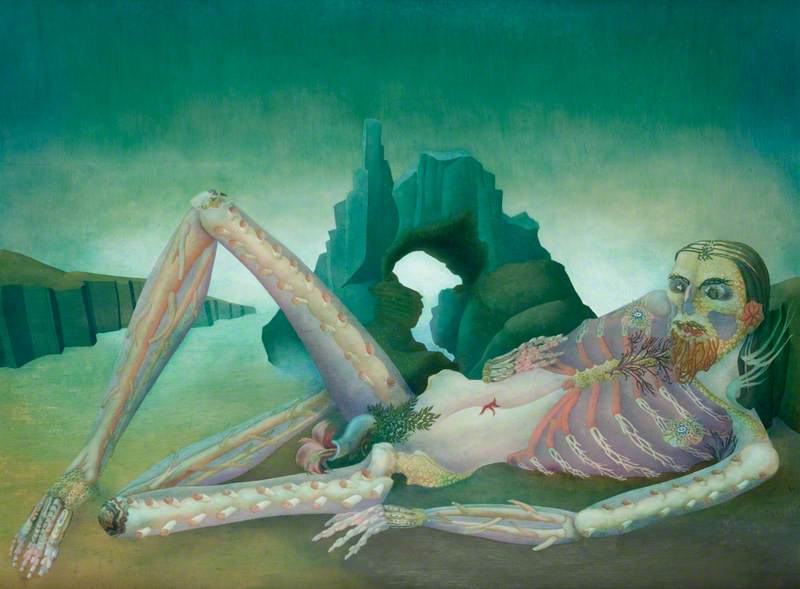 © the artist's estate. Photo credit: The Hunterian, University of Glasgow
British painter and writer. Born in Assam, India, the daughter of a civil servant, she moved to England as a child. She studied painting at the *Slade School, London, from 1927 to 1931. While a student she engaged in multi-figure narrative compositions. The Judgement of Paris (1930, Hove Museum and Art Gallery) shows an attempt to reconcile *Art Deco stylization with the solid construction of the human body demanded by the Slade.
Read more
The almost Valkyrian figure of Athena strides forward with helmet and spear, very definitely the goddess of war rather than of wisdom; Juno and Aphrodite are equally self-possessed and unalluring; the seated Paris is almost an afterthought. In 1931 she encountered *Surrealism in Paris. After the 1936 London International Surrealist exhibition she came under the influence of Salvador *Dalí. The work of this period shows a preoccupation with analogies between the body and the landscape. Scylla (1939, Tate) has a bay which can be read as two legs. The disturbing Gouffres Amers (1939, Hunterian Art Gallery, Glasgow) shows a male reclining nude, decaying but still alive. Whitney Chadwick points out that the pose is derived from that historically associated with the seductive female figures of painters such as Cranach. Colquhoun joined the Surrealists in 1939, only to leave in 1940 because of her refusal to abandon occultism, more problematic for the British than the French group. Later paintings were less illusionistic, drawing more on the automatist aspects of Surrealist painting. Her interest in the occult continued in her later career and she achieved a reputation as an authority on the subject. In 1975 she published a biography of MacGregor Mathers, one of the founders of the Order of the Golden Dawn. In the 1940s she moved to Cornwall, where she died of heart failure in a care home in Lamorna. Further Reading W. Chadwick, Women Artists and the Surrealist Movement (1985) M. Remy, Surrealism in Britain (1999) http://christojeanneclaude.net/index.shtml A useful brief biography by Matthew Gale, Tate website.
Text source: A Dictionary of Modern and Contemporary Art (Oxford University Press)