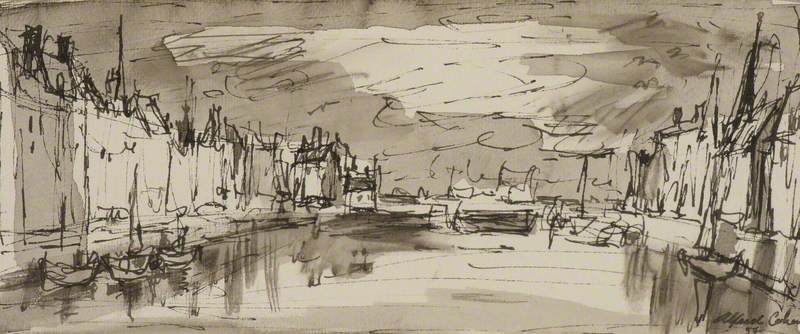 © estate of Alfred Cohen. Photo credit: Ben Uri Collection
Painter and printmaker, born in America, who studied at the Art Institute of Chicago. In 1929 was awarded a foreign travel scholarship which took him to Europe. He continued studying in Paris at L'Académie de la Grande Chaumière, showing his work in France and Germany. In Paris, Cohen's artistic horizons were widened by friendships such as the American Abstract Expressionist painter Sam Francis, the poet and translator Carlyle F MacIntyre and the actor Anthony Quinn; Cohen knew many famous film and stage actors, directors and producers who bought his work, such as Stanley Baker, James Mason, Sam Wanamaker and Carl Foreman. In 1960 Cohen settled in England and had a long series of shows with Roland, Browse & Delbanco. With his second wife, Diana Snow, Cohen engaged in property development, which led to the creation of The Wighton Schoolhouse Gallery, Norfolk, where Cohen had a studio and where a memorial retrospective was held, with another at London Jewish Cultural Centre, both in 2001, the year The Alfred Cohen Foundation was established.
Read more
His interiors, still lifes and seascapes had a chunky, richly coloured style. Cohen's work is in many public collections including Contemporary Art Society, Nuffield Foundation, Pembroke College in Oxford and galleries in Rye and Hull, as well as widely abroad.
Text source: 'Artists in Britain Since 1945' by David Buckman (Art Dictionaries Ltd, part of Sansom & Company)