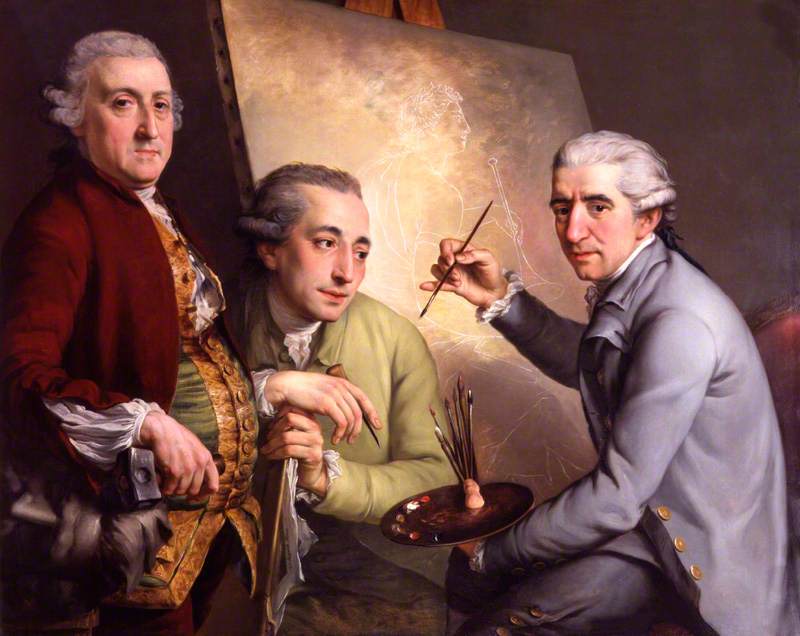 Photo credit: National Portrait Gallery, London
(b Florence, 1727; d London, 14 Dec. 1785). Florentine decorative painter and designer, active mainly in England. In 1755 he was brought to London by the architect Sir William Chambers and the sculptor Joseph Wilton, who had met him in Rome. He was employed in the decoration of many public buildings and private houses and in some cases designed such architectural details as plasterwork, woodwork, and stonecarving. Good examples of his paintings are at Somerset House (where he worked for Chambers) and in the Philadelphia Museum of Art (a series originally executed for Lansdowne House, London). He was also active as a teacher at the Royal Academy (he was a foundation member in 1768 and designed its diploma), and his numerous decorative designs (many engraved by Bartolozzi, his friend since student days) had wide influence.
Read more
Cipriani's work is accomplished rather than inspired, but he was, in the words of Sir Ellis Waterhouse, 'one of the great backroom figures of the Neoclassic style in England'.
Text source: The Oxford Dictionary of Art and Artists (Oxford University Press)