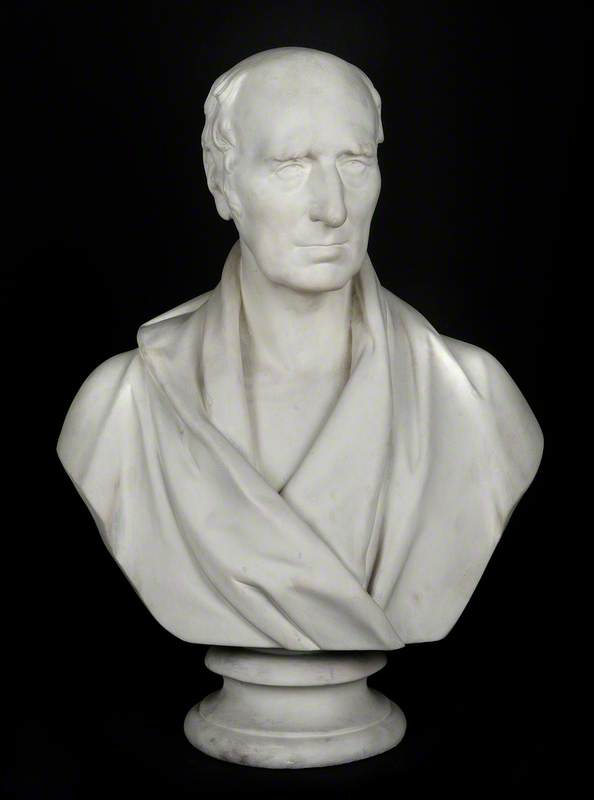 Photo credit: Glasgow Life Museums
(b Norton, Derbyshire [now a suburb of Sheffield], 7 Apr. 1781; d London, 25 Nov. 1841). English sculptor. Initially he tried to establish himself as a portrait painter, but after about 1805 he painted only occasionally (a self-portrait, c.1810, is in Tate Britain, London). He made his reputation with a bust of the Revd John Horne-Took (Fitzwilliam Mus., Cambridge), exhibited at the Royal Academy in 1811, and he succeeded Nollekens as the most successful portrait sculptor in England. His enormous practice also included church monuments and statues; the monument to the Robinson children (1817) in Lichfield Cathedral and the bronze equestrian statue of George IV (1828) in Trafalgar Square are his best-known works in these fields. Although he had studied intermittently at the Royal Academy, Chantrey was essentially self-taught and his work often has an impressive directness, unburdened by academic theory: 'I hate allegory; it is a clumsy way of telling a story.
Read more
' He became extremely wealthy, and besides being very generous during his life he left the bulk of his fortune of £150,000 to the Royal Academy, the interest to be used for the purchase of 'works of Fine Art of the highest merit executed within the shores of Great Britain'. These are now housed in Tate Britain.
Text source: The Oxford Dictionary of Art and Artists (Oxford University Press)