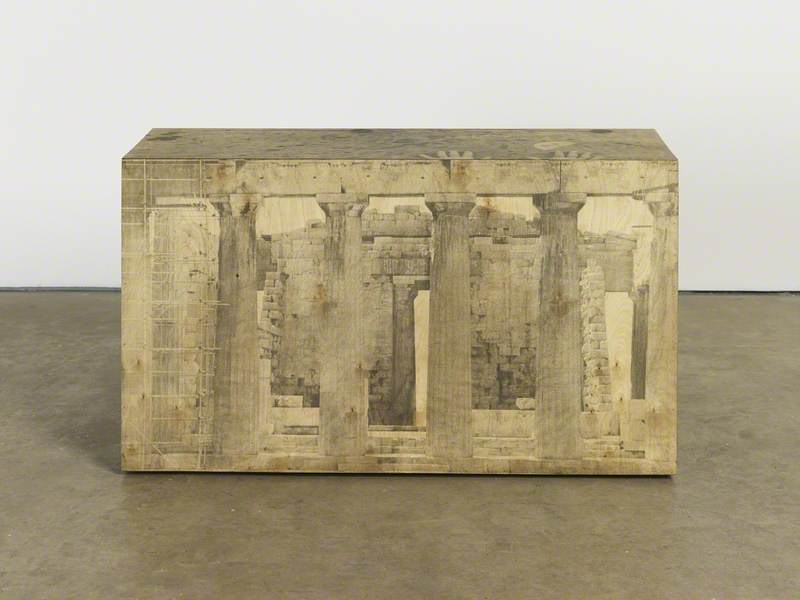 © The Estate of the Artist; Courtesy of Richard Saltoun Gallery, London. Photo credit: Arts Council Collection, Southbank Centre, London
Artist in various media, born in Croydon, Surrey. She studied at Brighton Polytechnic, 1973–6, gaining an honours degree, obtaining her master's at Chelsea School of Art, 1976–7. Twice nominated for the Turner Prize, Chadwick unsettled many with her concentration on subjects such as defecation and decay. Piss Flowers, 1994, was a series of 12 bronzes cast from holes in the snow where she and her partner had urinated. She was in the group shows Long Live the New Flesh, Kettle's Yard, Cambridge, and Postmodern Prints, at Victoria & Albert Museum, both 1991; and in Twelve Stars, Belfast Arts Council Gallery and tour, 1992–3, which showed her Self Portrait, 1991, in ciba transparency, aluminium on glass, electrics, acquired for the European Parliament Collection.
Read more
Tate Gallery and British Council also hold examples. Began showing solo soon after graduation, including Aspex Gallery, Portsmouth; Museum of Modern Art, Oxford; Museum of Modern Art in New York; and in 1996 the exhibition she was working on at the time of her death was held at Portfolio Gallery as part of the Edinburgh International Festival. There were retrospectives at Ferens Art Gallery, Hull, 1998–9, and Barbican Gallery, 2004, with a show at Zelda Cheatle, 2003. Henry Moore Institute, Leeds, organised My Personal Museum, from Chadwick's collection of material used to create her work, donated by Cheatle and the artist's estate, and Barbican Art Gallery held a retrospective, both 2004.
Text source: 'Artists in Britain Since 1945' by David Buckman (Art Dictionaries Ltd, part of Sansom & Company)