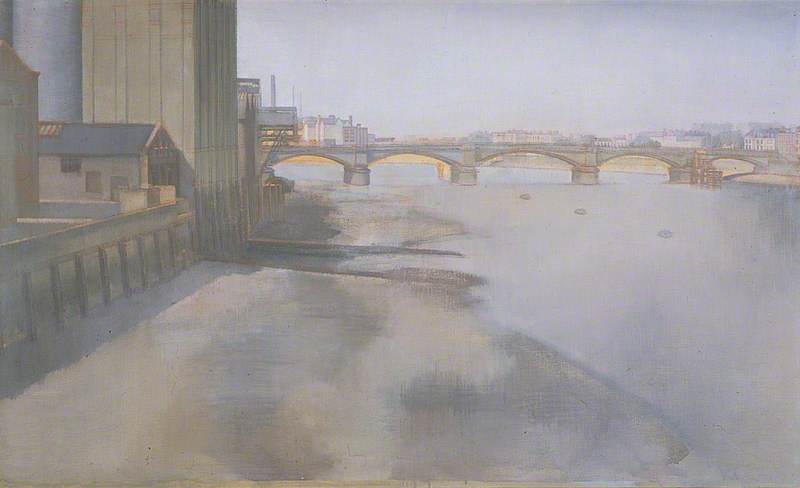 © the artist's estate. Photo credit: Museum of London
Painter, draughtsman and teacher, born in London. From 1914–17 Cast studied at School of Building, Brixton, intending to become an interior decorator, then for three years was employed successively in design studios of Maples, Harrods and H & C Davis (Radiation Ltd). He attended life classes at St Martin's School of Art in the afternoons, and in the evenings at Camberwell School of Arts and Crafts. In 1919 a large watercolour was hung in the architectural room of the RA. Awarded a scholarship by London County Council, Cast studied at Camberwell 1920–2, under Albert Rutherston, then from 1922–6 under Henry Tonks at Slade School of Fine Art, winning first prize in painting from life and first prize in decorative design, 1924–5; first prize in drawing heads from life, 1925–6; and, on leaving, the Robert Ross Scholarship in Fine Art.
Read more
Cast showed at NEAC for first time in 1926 at the start of a period when he lived abroad, in Bruges, Belgium; then Soller, Majorca. From 1930–9 Cast showed at RP, to which he was elected in 1957, and annually at RA from 1934, but he later declined offers of nomination for election. During the war Cast worked in the Ministry of Aircraft production, then afterwards taught at Harrow School of Art, Central School of Art and Design and Hornsey College of Art, where he accepted a permanent appointment. Because he was so self-critical and because a large number of paintings was destroyed during the war, Cast's extant output is small. He was highly regarded by his peers as a meticulous draughtsman and craftsman. A memorial show was held at South London Art Gallery, 1980, another at University College, 1994. Tate Gallery, National Maritime Museum and British Museum hold examples. Lived in Tunbridge Wells, Kent.
Text source: 'Artists in Britain Since 1945' by David Buckman (Art Dictionaries Ltd, part of Sansom & Company)