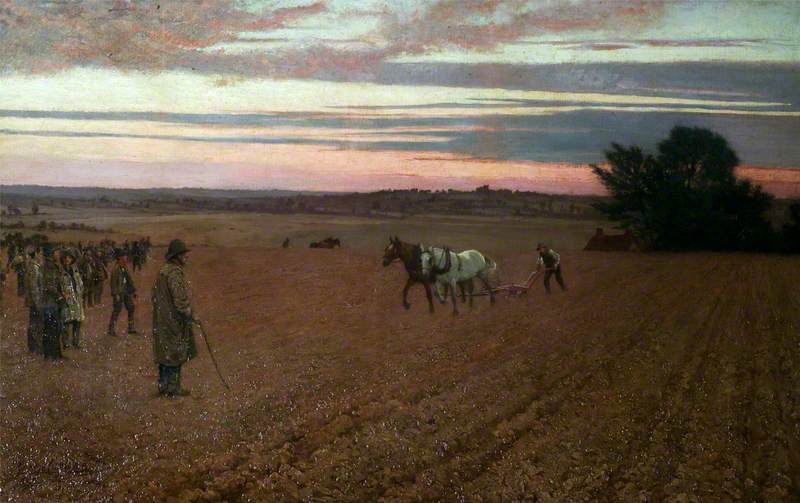 Photo credit: The Collection: Art & Archaeology in Lincolnshire (Usher Gallery)
British painter and illustrator, the head of a family of artists. He studied in London, Antwerp, and Paris (at the *Académie Julian), and his work consisted mainly of landscapes, portraits, and genre scenes in an accomplished but unexceptional style. His wife, Annie (1862–1945), took up painting when she was in her sixties; Sir John *Rothenstein writes that 'Certain of her paintings are reminiscent of *Lowry's (which she is unlikely to have seen); others show the influence of *Cubism, originally interpreted.' They had three painter children: Sydney (1888–1929), Hilda (1889–1950), and Richard (1896–1980), all of whom studied at the *Slade School. One of Sydney's fellow-students there was Stanley *Spencer, to whom Hilda was married from 1925 to 1937.
Read more
An exhibition held in Kenwood House, London, in 1999 suggested to some critics that her talent was comparable to that of her husband's. Sydney's paintings were mainly landscapes and portraits; he also made etchings and designed medals. During the First World War he served with the army and RAF and was an *Official War Artist in 1918. In 1921 he became Master of Drawing at the Ruskin School, Oxford, a post he held until his death. Richard also fought during the First World War and was the youngest of all Official War Artists, working for the RAF in 1918–19. He wrote Draw They Must (1968), a history of art education, and Stanley Spencer at War (1978). Richard's wife, Nancy Carline (1909–2004), was also a painter.
Text source: A Dictionary of Modern and Contemporary Art (Oxford University Press)