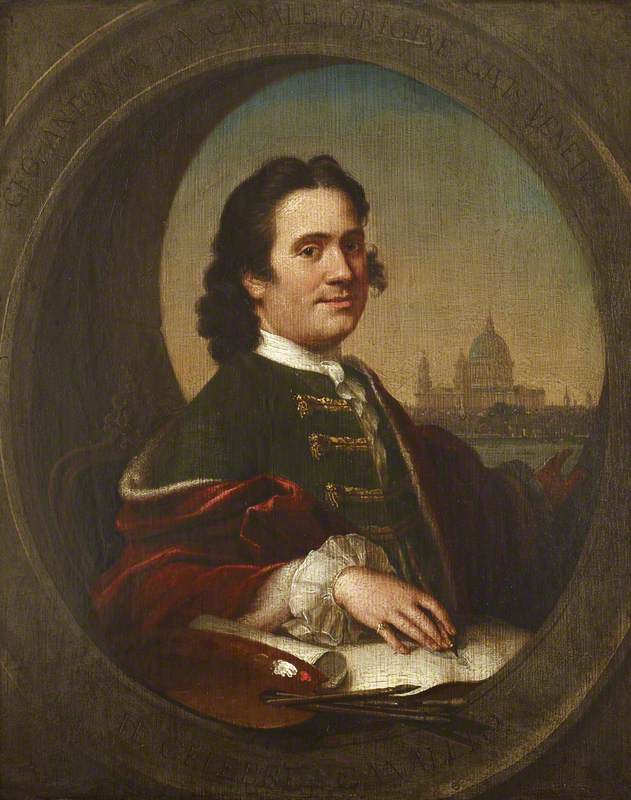 Photo credit: National Trust Images
(Born Venice, 17 October 1697; died Venice, 19 April 1768). Venetian painter, etcher and draughtsman, the most famous view-painter of the 18th century. He began his career assisting his father, a theatrical scene painter; their work included sets for Vivaldi operas in Venice and Alessandro Scarlatti operas in Rome, which they visited in 1719–20. Whilst he was in Rome Canaletto made drawings of ancient monuments and famous modern buildings, and after his return to Venice he abandoned theatrical work for topographical painting (see veduta). His early paintings of Venice include some intimate views of unremarkable pieces of townscape, treated with great freshness of observation and liveliness of touch (The Stonemason's Yard, c.1727, NG, London). However, he soon began to specialize in much grander views showing the public face of the city, including festivities on the canals. His colouring became stronger and brighter and his handling smoother and more precise. He worked from drawings made on the spot and also made use of a camera obscura, but although his pictures give the feeling of being extremely accurate records, he in fact often made departures from topographical correctness in the interests of creating a better composition—changing the proportions of a building or shifting its position and so on. He also produced imaginary views (see capriccio).
Read more
His work appealed greatly to wealthy visitors to Venice and his best customers were British aristocrats making the Grand Tour, for whom he sometimes produced series of views in uniform size. Canaletto's dealings with his British clients were mainly done through an agent, Joseph Smith (c.1674–1770), who moved to Venice in about 1700 to work as a banker and stayed for the rest of his life. In addition to working as an art dealer (with an efficient organization for shipping Canaletto's pictures to England), he was a publisher, and in 1744 he was appointed British consul in Venice—he is sometimes known as 'Consul Smith' and also as the 'Merchant of Venice'. He had a superb art collection of his own, most of which he sold to George III in 1762, thus accounting for the fact that the British royal collection has the world's best representation of Canaletto's work.

Canaletto's business was badly hit by the War of the Austrian Succession (1740–8), which severely curtailed Continental travel and therefore cut him off from his main patrons. In the early 1740s he concentrated on drawings and etchings, and in 1746 he moved to England, evidently at the suggestion of Jacopo Amigoni. He was based in England for the next decade (although during this time he made two visits to Venice). Initially he was very successful, painting views of London and of various country houses. However, some of the work he produced in England was mechanical (even though he never lost his gift for handsome composition), and rumours were put about, probably by rivals, that he was not in fact the famous Canaletto but an impostor.

In about 1756 he returned permanently to Venice. He continued active for the remainder of his life, but he never recovered his former popularity, and by the time of his death he seems to have been far from prosperous. His work was highly influential in Italy and elsewhere: his nephew Bernardo Bellotto took his style to central Europe and his followers in England included William Marlow and Samuel Scott.
Text source: The Oxford Dictionary of Art and Artists (Oxford University Press)