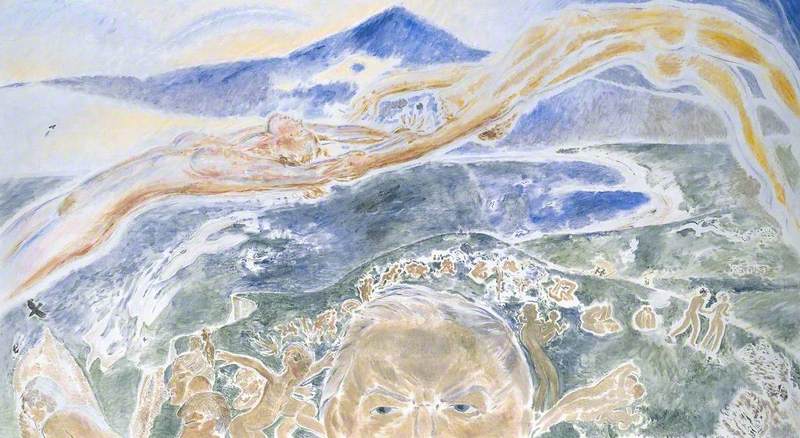 © the artist's estate. Photo credit: Tate
Artist and teacher, born in Oulton Broad, Suffolk. He studied first at Lowestoft and then at Ipswich School of Art, then from 1941–4 was at Edinburgh College of Art under William Gillies and John Maxwell. He returned to Suffolk at the end of 1944 and won an Andrew Grant Travelling Scholarship in 1945 and a David Murray Bursary for landscape painting in 1946. His first solo show was with Beaux Arts Gallery in 1959. He was married to the painter Laetitia Yhap for a while from 1964, living in Hastings, although he later moved to London. Camp taught at Slade School Fine Art, 1963–88, and was elected RA in 1984. In addition to several shows at Beaux Arts he had major solo exhibitions at New Art Centre, 1968; a retrospective at South London Art Gallery in 1973; Serpentine Gallery, 1978; several at Nigel Greenwood Gallery from 1986; RA, 1988; Browse & Darby Gallery, 2001; and a small retrospective of paintings, 1970–02, at Art Space Gallery, 2002.
Read more
Camp's pictures were included in several major international touring exhibitions in the 1980s. In 1981 he published the book Draw, which was frequently reprinted. Art Council holds several examples of Camp's work, which was full of movement and colour and often featured south of England coastal scenes, as well as landscapes with figures.
Text source: 'Artists in Britain Since 1945' by David Buckman (Art Dictionaries Ltd, part of Sansom & Company)