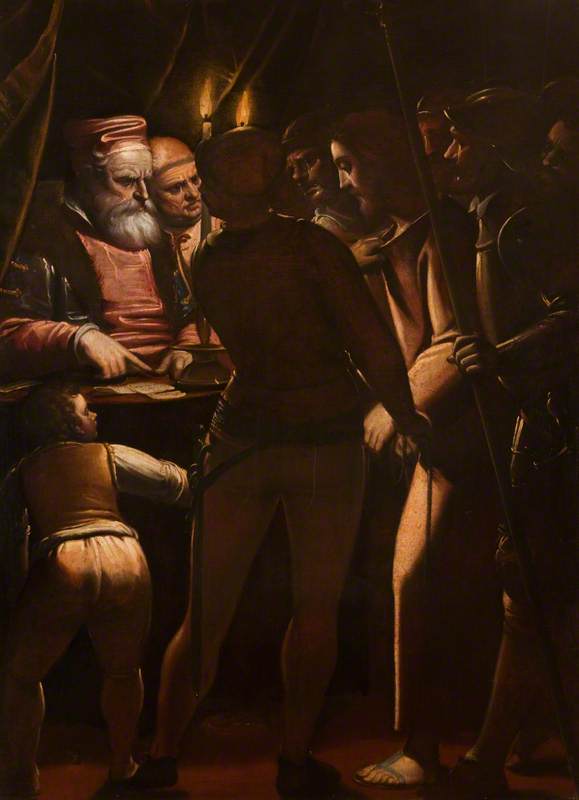 Photo credit: The Hunterian, University of Glasgow
(b Moneglia, nr. Genoa, 18 Oct. 1527; d Escorial, 6 Sept. 1585). Genoese painter and draughtsman. He was the outstanding Genoese painter of the 16th century, indeed the only one who was of more than local significance. Much of his large output consisted of fresco decorations in churches and palaces in and near Genoa, and he also produced numerous altarpieces and devotional pictures. Some of his finest devotional works are austere night scenes and they have been claimed as sources for Georges de La Tour, even though it is not clear how La Tour could have known them. Cambiaso visited Rome at least twice and Michelangelo was a powerful influence on the massiveness of his figures, although in softness of modelling they have more in common with Correggio.
Read more
He was an almost compulsively busy draughtsman as well as a prolific painter; in some of his drawings the figures are constructed with simplified cubic shapes, giving them a remarkably modern look. In 1583 he accepted an invitation from Philip II of Spain (see Habsburg) to join the team of artists at the Escorial. The work he accomplished there in the remaining two years of his life was carried out very hastily and includes an enormous and extremely dull ceiling fresco of the Holy Trinity in Glory in the basilica. He was succeeded at the Escorial by Federico Zuccaro and then Pellegrino Tibaldi.
Text source: The Oxford Dictionary of Art and Artists (Oxford University Press)