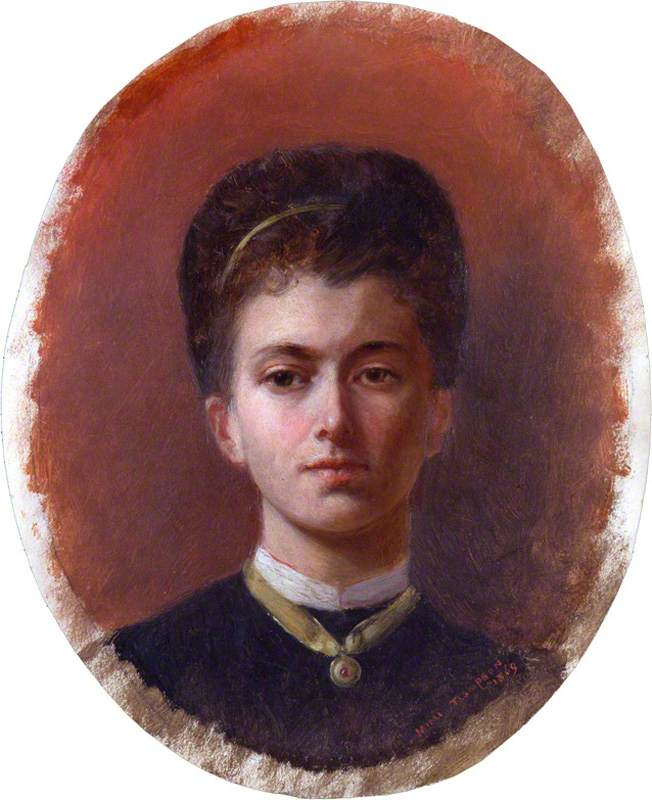 Photo credit: National Portrait Gallery, London
(b Lausanne, Switzerland, 3 Nov. 1846; d Gormanston Castle, Co. Meath, 2 Oct. 1933). British painter who concentrated almost exclusively on military scenes. She initially had no military connections (although she married an army officer in 1877) and took up such subjects because she thought they were comparatively neglected in Britain, offering an ambitious artist scope to 'distinguish herself from the ruck'. This idea was vindicated and during her heyday in the 1870s she was one of the most acclaimed artists in Britain. Her work appealed to popular patriotic sentiment, but she was also admired by critics such as Ruskin, who said she had forced him to admit he had been wrong in believing that 'no woman could paint'. Lady Butler said, 'I never painted for the glory of war, but to portray its pathos and heroism', and although her pictures often have a glossy, Hollywood quality, they are sincerely felt, and she has been praised for trying to show the experience of the common soldier rather than concentrating—as was then usual—on the heroic deeds of officers.
Read more
Her best-known painting is probably Scotland for Ever! (1881, City AG, Leeds), showing the charge of the Royal Scots Greys at the Battle of Waterloo. She continued working almost to the end of her life and her final paintings were of First World War subjects. The writer Alice Meynell was her sister.
Text source: The Oxford Dictionary of Art and Artists (Oxford University Press)