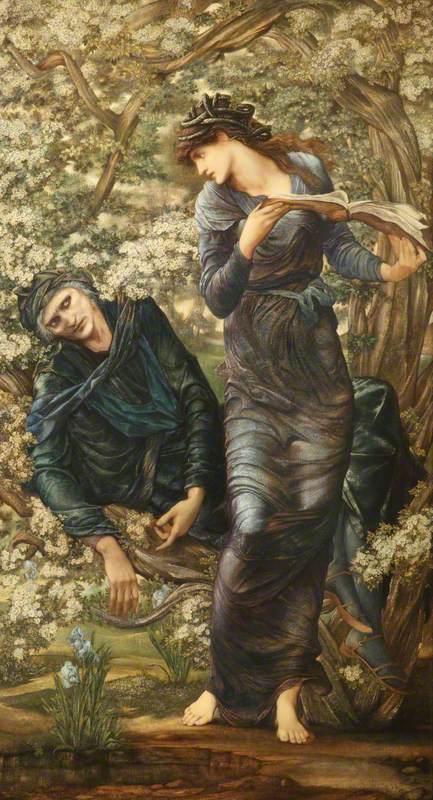 Photo credit: Lady Lever Art Gallery
(b Birmingham, 28 Aug. 1833; d London, 16/17 June 1898). English painter, illustrator, and designer, a key figure in the second phase of Pre-Raphaelitism. In 1853 he began studying at Oxford University, intending to train for the priesthood, but his interest was turned to art first by William Morris, his fellow student, and then by Rossetti, who remained the decisive influence on him. He left Oxford without taking a degree in 1856 and settled in London. Rossetti gave him a few informal lessons and he attended life drawing classes for a while, but essentially he was self-taught; his taste was more classical than Rossetti's and his elongated forms owed much to the example of Botticelli. He favoured medieval and mythical (especially Arthurian) subjects and hated such modernists as the Impressionists, describing their subjects as 'landscape and whores'.
Read more
His own ideas on painting are summed up as follows: 'I mean by a picture a beautiful romantic dream, of something that never was, never will be—in a light better than any that ever shone—in a land no-one can define or remember, only desire—and the forms divinely beautiful.' He had a fairly low-key career until 1877, when he became famous overnight with the showing of eight large paintings at the opening exhibition of the Grosvenor Gallery. Thereafter he acquired huge fame and prestige, not only in Britain, but also on the Continent: he had considerable influence on the French Symbolists, and the ethereally beautiful women who people his paintings, like the more sensuous types of Rossetti, had many imitators at the end of the century. Although he was lauded for his poetic qualities by many critics, some thought his pictures 'morbid' and 'unmanly'. His paintings tend to be flat and frieze-like in composition, with richly textured surfaces, and his feeling for pattern was put to good use in his work as a designer: he was a founder member of William Morris's decorative arts company in 1861 and designed some outstanding stained glass and tapestries for it, as well as making illustrations for Kelmscott Press books. Burne-Jones's reputation crumbled after his death and did not seriously revive until the 1960s. The best collection of his work is in the City Art Gallery in Birmingham.
Text source: The Oxford Dictionary of Art and Artists (Oxford University Press)