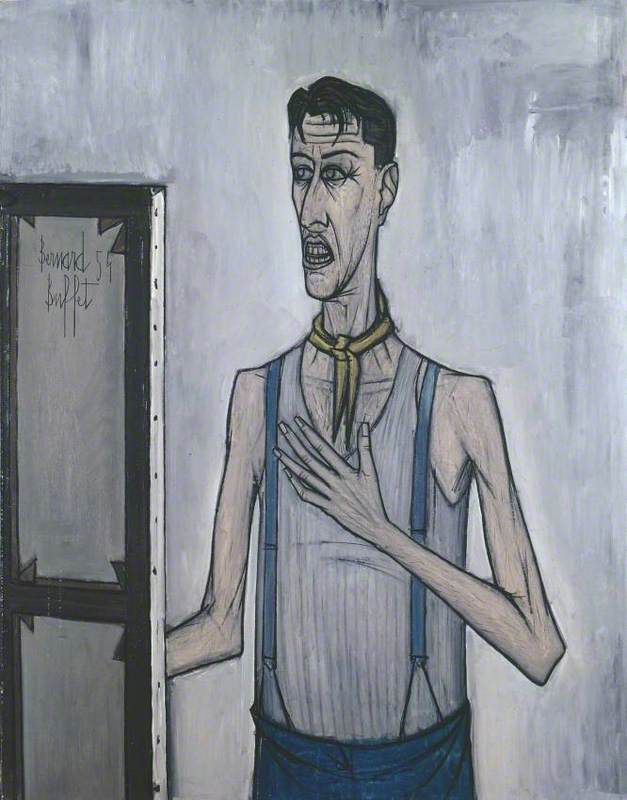 © ADAGP, Paris and DACS, London 2023. Photo credit: Tate
(b Paris, 10 July 1928; d Tourtour, Var, 4 Oct. 1999). French painter, etcher, lithographer, designer, and occasional sculptor. A precocious artist, he had developed a distinctive style and won considerable critical acclaim by the age of 20. His work, which includes religious scenes, landscapes, still lifes, and portraits, is instantly recognizable, characterized by elongated, spiky forms with dark outlines, sombre colours, and an overall mood of loneliness and despair. It seemed to express the existential alienation and spiritual solitude of the post-war generation, and Buffet enjoyed enormous success in the 1950s. Later, as he found himself overwhelmed by commissions, his work became more decorative, losing much of its original impact, but he continued to be highly prolific, eagerly collected, and very wealthy.
Read more
His final years were marred by Parkinson's disease and he committed suicide.
Text source: The Oxford Dictionary of Art and Artists (Oxford University Press)