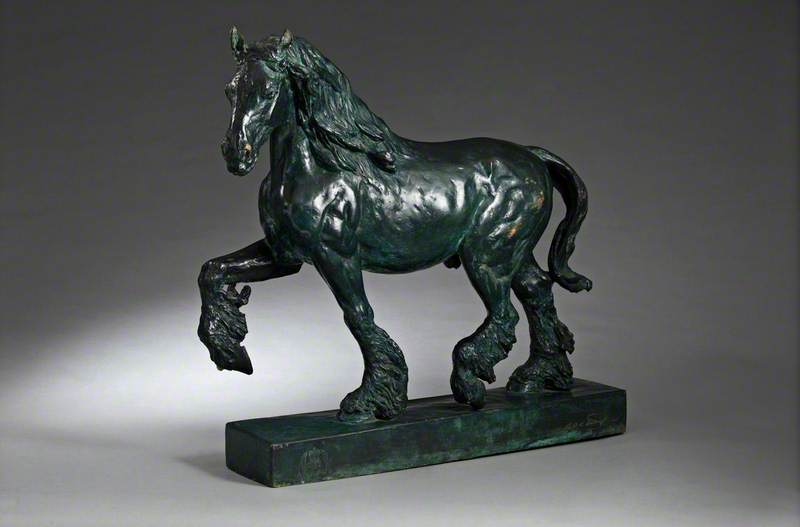 © the copyright holder. Photo credit: Watford Museum
Artist noted for his animal sculptures, and engineer, whose early education was blighted by dyslexia, so that he resorted to night school and self-education. Trained as a toolmaker, he became a chartered engineer. Was the founder and chairman for over 40 years of the Egerton Group of Companies, which from the early 1940s was involved in the aerospace industry, based in Burnt Oak, Middlesex. Browne studied sculpture in the studios of L Cubitt Bevis and Ernest Shone-Jones; pastels and oil with Helen Wilson at Heatherley's School of Fine Art (he helped save it when it hit hard times in the late 1960s); animal painting with Marguerite Frobisher in Bushey; and bronze casting with Michael Gillespie at Hertfordshire College of Art and Design, St Albans.
Read more
Browne mainly worked in bronze, also using marble, stone, terracotta, cement and plaster, and engraved glass with an abrasive wheel. Exhibited in many London exhibitions, especially at SWLA, RBA, NEAC and Hesketh Hubbard Society, and had solo shows at Watford and Bushey Museums. He was made an associate member of the Société des Artistes Français in 1984, winning the Salon Gold Medal that year, and in 1995 was made an associate of RBS. Two years before, he had been elected a fellow of the Zoological Society of London, having researched animal subjects extensively at London and Whipsnade Zoos. The French animalier tradition, Édouard Lantéri, Sir Alfred Gilbert, Lucy Kemp-Welch, Sir Alfred Munnings and Frank Calderon were key inspirations. He was a keen medal-winning shot and fisherman. Browne created public works for Whitbread's stable block and the Farmers' Club, both in London; the Shire Horse Society headquarters in Peterborough; and the memorial to Bushey artists in St James' Church there. Bushey Museum, which gave him a memorial exhibition in 1996, holds his work.
Text source: 'Artists in Britain Since 1945' by David Buckman (Art Dictionaries Ltd, part of Sansom & Company)