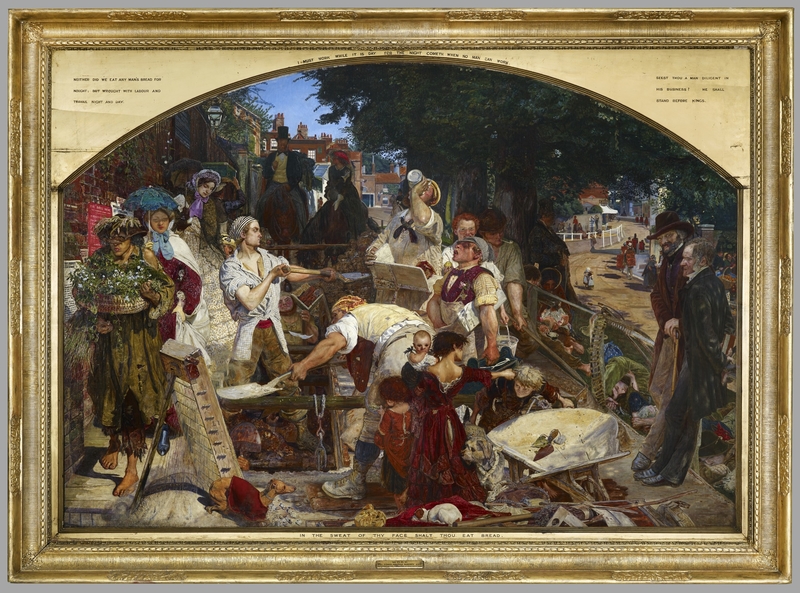 Photo credit: Manchester Art Gallery
(b Calais, 16 Apr. 1821; d London, 6 Oct. 1893). English painter. The son of a retired ship's purser, he spent his early life on the Continent; his training included a period with Wappers in Antwerp. In 1840–3 he lived in Paris, then settled in London in 1844; he visited Rome in 1845–6 and was impressed by the work of the Nazarenes. In 1848 he met Rossetti and through him became part of the Pre-Raphaelite circle; he was not a formal member of the Brotherhood, but he shared their beliefs that art should be true to nature and morally edifying. His Chaucer at the Court of Edward III (1851, AG of New South Wales, Sydney) contains portraits of several of the Brotherhood, and his best-known picture, The Last of England (1852–5, City AG, Birmingham), was inspired by the departure of Woolner, the Pre-Raphaelite sculptor, for Australia.
Read more
Brown's other famous anthology piece, Work (1856–63, Manchester AG), shows his dedicated craftsmanship and brilliant colouring, but is somewhat swamped by its social idealism (it is a crowded street scene presenting a cross-section of contemporary society engaged in various activities, emphasizing the moral value of labour). In 1865 Brown organized a one-man exhibition in London, in which Work was the centrepiece; the catalogue contains his highly detailed commentary on the picture. By organizing such an exhibition he showed his independence of the Royal Academy, which he avoided after he thought some of his pictures had been badly hung there. He had a prickly temperament and sometimes had difficulty selling his work. In 1878, however, he was given a major commission for a cycle of paintings in Manchester Town Hall on the history of the city. This occupied him until his death and he was based in Manchester from 1881 to 1887. Apart from paintings, his work included the design of stained glass and furniture for William Morris's decorative arts company, of which he was a founder member in 1861.
Text source: The Oxford Dictionary of Art and Artists (Oxford University Press)