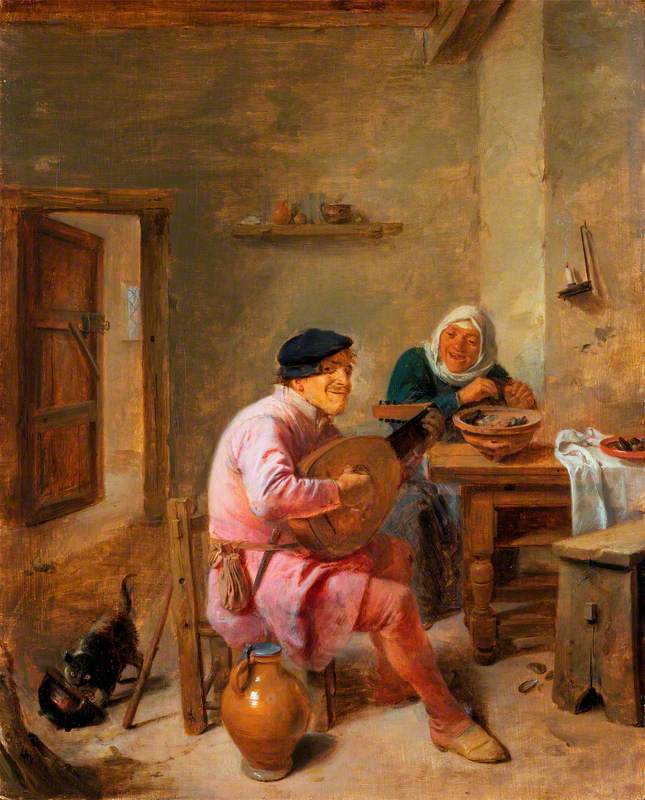 Photo credit: Victoria and Albert Museum, London
(b ?Oudenarde, c.1605; bur. Antwerp, 1 Feb. 1638). Flemish painter who spent a great part of his short working life at Haarlem in Holland. He moved there in about 1625 and according to Houbraken was a pupil of Frans Hals. In about 1631 he left Holland for Antwerp and evidently spent the rest of his career there. He perhaps died from the plague that swept the city in 1638. Brouwer was an important link between the Dutch and Flemish schools and played a major role in popularizing low-life genre scenes in both countries in which he worked. Early sources depict him as a colourful bohemian character (he was imprisoned in 1633, perhaps for debt) and his most typical works represent peasants brawling and drinking. Although the subject matter is humorously coarse, his technique is delicate and sparkling.
Read more
The virtuosity of brushwork and economy of expression are perhaps even more evident in his landscapes, which are among the finest of his period. Rembrandt and Rubens were among the admirers and collectors of Brouwer's paintings (Rubens at one time owned seventeen), and Adriaen van Ostade and David Teniers the Younger were among his many followers.
Text source: The Oxford Dictionary of Art and Artists (Oxford University Press)